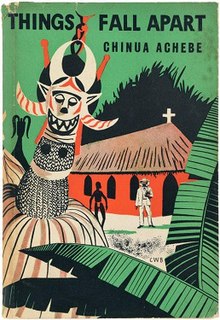 Things Fall Apart Page 4
We found
35

free papers on Things Fall Apart
Chinua Achebe
Things Fall Apart
Chinua Achebe's "Things Fall Apart" tells two interconnected stories. One follows Okonkwo, a villager whose path to power is obstructed by a series of misfortunes. The other depicts Umuofia, Okonkwo's village, as it struggles to preserve its cultural heritage in the face of colonialism from the Western world. The title, "Things Fall Apart," effectively captures…
Show More
author
Chinua Achebe
genre
Novel,Historical Fiction
originally published
1958
description
Things Fall Apart is the debut novel by Nigerian author Chinua Achebe, first published in 1958. It depicts pre-colonial life in the southeastern part of Nigeria and the invasion by Europeans during the late 19th century.
characters
Ezinma, Ikemefuna, Okonkwo, Nwoye, Mr. Brown
quotations

"There is no story that is not true, [ ] "A man who calls his kinsmen to a feast does not do so to save them from starving. "There is no story that is not true." "If you don't like my story,write your own" "If I hold her hand she says, 'Don't touch!

information

Sequel: No Longer at Ease

Message: As a story about a culture on the verge of change, Things Fall Apart deals with how the prospect and reality of change affect various characters. The tension about whether change should be privileged over tradition often involves questions of personal status., Chinua Achebe depicts and examines the rich traditions and culture of Igbo society in his classic novel Things Fall Apart. He wrote the story in response to Conrad's racist novella Heart of Darkness, which portrayed Africans as uncivilized savages.