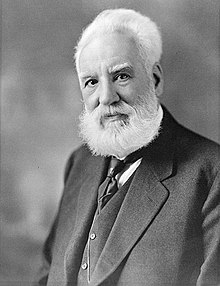 Alexander Graham Bell
We found
4

free papers on Alexander Graham Bell
Alexander Graham Bell
Invention
Alexander Graham Bell, a man who best known for inventing the telephone. Most people dont know he spent the majority of his life teaching and helping the deaf. Educating the hearing impaired is what he wished to be remembered for. Bell was born on March 3, 1847, in Edinburgh, Scotland. His mother was a painter…
Frequently Asked Questions about Alexander Graham Bell
Don't hesitate to contact us. We are ready to help you 24/7
How would you describe Alexander Graham Bell?
Alexander Graham Bell (/ˈɡreɪ. əm/, born Alexander Bell; March 3, 1847 – August 2, 1922) was a Scottish-born inventor, scientist, and engineer who is credited with inventing and patenting the first practical telephone. He also co-founded the American Telephone and Telegraph Company (AT&T) in 1885.
What made the telephone Innovation successful?
The telegraph and telephone are both wire-based electrical systems. Alexander Graham Bell's success with the telephone came as a direct result of his attempts to improve the telegraph. When he began experimenting with electrical signals, the telegraph had been an established means of communication for some 30 years.
Why is Alexander Graham Bell important?
Alexander Graham Bell is most well known for inventing the telephone. He came to the U.S as a teacher of the deaf, and conceived the idea of "electronic speech" while visiting his hearing-impaired mother in Canada. ... When he was eleven, Bell invented a machine that could clean wheat.