Othello Essay Topics & Ideas
Use our essay topics suggestions to impress your reader!
Shakespeare's play Othello was written in 1604. The author took the work of Giraldi Chinito "The Venetian Moor" as the basis for the plot of the tragedy. This is a sad story about lost trust, love, the meaning of life.
Desdemona escapes with the Moor Othello to secretly marry. Iago, Lieutenant Othello, wants to take revenge on him for the fact that he was appointed lieutenant, but Cassio. He tells Desdemona's father about his daughter's flight, but he blesses the marriage. Othello is sent to Crete, Desdemona goes with him. There Iago assures Othello that Desdemona is cheating on him with Cassio, and arranges everything in such a way that the general believes him. Eaten by jealousy, Othello kills his wife, but after death, he learns that she was unfairly slandered. He commits suicide.
Tragedy teaches that one should not blindly follow the lead of one's feelings, that all impulses must be supported by the arguments of reason.
How to Choose Essay Topic on Othello?
There are many ways to choose a topic for your essay. The most important thing is to think about what you want to say, and how you want it to come across.
Let's take a look at some of the most popular ways people choose their topics:
Choose a topic that interests you personally. This can be a great way to get started because it will help you feel more passionate about your writing, which is an important part of being able to make it interesting for others as well!
Choose a topic that you already know a lot about, like one of your hobbies or interests that has been around since childhood (like playing sports). This can be helpful because it means that you won't have to spend time researching something new before starting on your essay—you'll just have to focus on organizing all of your thoughts into one coherent paper!
Choose a topic that has been covered by other writers in books or magazines so that you don't have to do everything from scratch yourself! You can use these sources as inspiration for how much information should include in each section (i.e., introduction, body paragraphs) but then add in new ideas or perspectives based on what YOU know about the topic too!
Tips on How to Write Othello Essay
Don't just summarize the plot of Othello. You need to analyze and critique it as well.
The play is about a lot more than just jealousy and trust issues, so don't try to make it all about those things.
Make sure that you know who wrote the play and when it was written, because that might change how you interpret it.
Don't just describe what happens in the play—explain why it matters and how it works in context!
Remember that Shakespeare's plays are always meant to be performed on stage, not read on paper, so think about how they would have been performed in his time instead of just reading them as if they were novels.
✒️ Argumentative Othello Essay Topics
'Exceeding Honesty' Investigating The Heroic Trait In The Character of Iago In Shakespeare's Othello
'Othello': A Tragedy of Deception Or A Tragedy of Self-Deception?
"Aristotle's Definition of The Tragic Hero and Irony In Tragedy" Oedipus Rex, Othello, and Death of A Salesman
Character Analysis For Othello's Iago
Character Flaws In Othello
Dramatic Irony In Othello
Iago's Motives in Othello
Important Quotes In Othello
Othello and Desdemona's Romance
The Role of Reputation in Shakespeare's Othello
Gender Role and Tragedy Othello
My Perception of William Shakespeare's Othello
Comparing Shakespeare's Othello with Conrad's Heart of Darkness
The Devil Himself – Iago In Othello
The Effects of Iago's Meddling On Othello
The Figure of The Moor In Shakespeare's Othello and Cinthio's Hecatommithi.
The Moor of Venice: The Skeleton of Shakespeare's Othello
The Role of Reputation In Othello
The Role of Women In Othello: A Feminist Reading
The Theme of Madness In Shakespeare's King Lear and Othello
The Two Settings of Othello
Othello – Change of Characters
Shakespeare's Othello: Love, Infidelity and Loss
Shakespeare's View of Women In Othello
Shakespeare's Play Othello Demonstrates The Weakness of Human Judgement
Othello Evaluation Act 1 Scene 3, Lines 238 – 270
Love In Othello
Manipulation In Othello
Manipulative Letter To Iago – 'Othello'
Racism, misogyny, and 'motiveless malignity' in Othello
The Meaning of Othello
Iago'S Soliloquies In William Shakespeare'S Play Othello
Feminism In Othello
Othello: Coleridge Said That Iago Was A "Motiveless Malignity"
Othello: He Defencies In Iago's Character
Othello: In The Opening Scene, The Play's Villain, Iago, Openly Declares His Type of Character, His Intentions, and His Motivations
Othello: The Dramatic Impact of Act 1 Scene 3 and Its Importance To The Play As A Whole
The Moor as a Muslim in William Shakespeare's Othello
Popular Questions
How to write an Othello essay?
Writing original papers on this topic is not easy, as Othello essays are probably one of the most widespread assignments, which professors give to their students. But in order to catch the … reader's attention, you should be creative. Thus, you should make your outline, as well as introduction and conclusion intriguing.
Is Othello a tragedy?
Shakespeare's Othello (Shakespeare, 1604) is a tragedy that unfolds based on the actions and language of one character: Iago. As a result, the plot is linear, yet the play manages to maintain a multidimensional effect.
What is the theme of the Othello oral report?
Othello is a tragedy by William Shakespeare set in Venice. Othello is a highly respected general and Iago is his ambitious comrade. Othello promotes Michael Cassio to the position of lieutenant and Iago becomes extremely jealous.
What is the relationship between Iago and Othello?
The Othello focused on dishonesty and miscommunication, jealousy and regret, and gender and pride, as well as more themes that I consider less prominent and will therefore Othello is, among other things, a play about words.
✨ Best othello Topic Ideas & Essay Examples
✍ Othello Compare and Contrast Essay Topics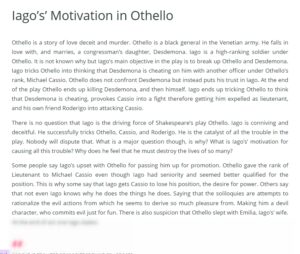 Comparing Macbeth and Othello
"The Book Thief" By Markus Zusak, "Elephant Man" and "Othello
Titus Andronicus and Othellos
Comparing Shakespeare's Othello with Conrad's Heart of Darkness
Character analysis: Iago in Othello
The Role of Reputation in Shakespeare's Othello
Explore and Describe The Devices and Techniques Used By Iago To Ensnare Othello In Act 3, Scene 3 of Othello
Othello: Comparison of Cassio and Iago
What Are The Similarities Between Othello and Lord of The Flies
Power of Love In Othello and Pride and Prejudice
Racism and Feminism In Othello
Reality Vs. Illusion In Othello Othellos
Popular Questions
How do you compare and contrast Othello and Hedda Gabler?
Compare the plays "Othello" and "Hedda Gabler." Think about the religious themes of the play and about the contrast between Venice and Cyprus (along with Othello's homeland of Africa) in the development of the tragedy. Othello says he "loved not wisely, but too well" (V, ii, 344).
How is Iago considerate to people in Othello?
Within the play Othello by William Shakespeare, a character named Iago displays a very good example of this.
Why is Othello considered a tragedy?
Othello is tragedy written by William Shakespeare. that demonstrates the power and strength of repute. The drama describes how Othello and Desdemona effort to construct a life together. ignoring their difference in age and race.
Othello  Essay Topics About the Main Hero
Othello – Character Analysis
Othello As A Tragic Hero
Othello Through Marxism and Formalism
What is Othello's tragic flaw that causes his downfall?
Is Othello A Racist and A Sexist Play?
Othello's Love Turning To Hate
Othello's Jealousy
Popular Questions
Is Othello a strong or weak character?
The play Othello by William Shakespeare was written in 1604 during the Elizabeth era. Othello is one of the most extraordinary characters in all of Shakespeare's dramas. In the beginning of the play we see Othello as a strong character.
Was Othello a good man or a tragic hero?
Othello was a good man, but he was a tragic hero because of his flaw that William Shakespeare gave us a most moving drama in Othello. In this play we witness the demise of a "paragon" of a wife and a "valiant Moor", Othello. Let us consider the Moor in detail, with professional critical input, in this essay.
Where did Shakespeare get his ideas for Othello from?
Many of Shakespeare's ideas for the play Othello came from a collection of tales written by Giraldi Cinthio. In Othello the character of Iago acts as the prominent main character throughout the play, even though he plays the role of the antagonist to the other central characters in the comedy Iago is the tragic hero.
Othello  Literary Analysis Essay Topics
Analyze The Techniques Iago Uses To Plant Suspicion In Othello's Mind
Analysis of "To My Dear and Loving Husband" and Othello
Analysis of Iago Character In Shakespeare's "Othello" Sample
Analysis of The Film "Othello" By Oliver Parker
Analysis of The Tragedy of Othello The Moor of Venice
Discuss How Iago From Othello Exploits Others To Achieve His Goal
Discuss The Importance of Power In The Tragedy of Othello
Discuss The View That Othello Is Too Stupid To Be A Tragic Hero
How Does Iago Convince Othello To Kill Cassio and Desdemona By The End of Act Three?
How Does Iago Manipulate Othello, Cassio, and Roderigo?
How Does Shakespeare Make Act 5 Scene 2 of Othello Dramatic?
How Does Shakespeare Use Language and Dramatic Techniques To Present Love In 'Othello' and 'Romeo and Juliet'?
How Does Shakespeare Use Language and Stagecraft To Show Othello's Changing Feelings Towards Desdemona Throughout Othello
How Does The Ending of Othello Related To The Ideas and Characteristics of The Text As A Whole?
How Does The First Act of 'Othello' Prepare Us For The Rest of The Play?
How Far Is Othello A Racist Play That Is The Product of Its Times?
To What Extent Is Desdemona Presented As A Tragic Victim In Othello?
To What Extent Is Othello Responsible For His Own Downfall?
What Are The Contextual Factors Important To The Study of 'Othello'?
What Do We Learn of Othello's Character Through An Analysis of His Language?
What Do You Learn About Othello's Changing Character and Personality Through An Analysis of Language Style and Structure?
What Is Particularly Dramatic About Act 4, Scene 3 of 'Othello'?
What Is The Importance of Setting and Geography In William Shakespeare's 'Othello'? Sample
Why Act 3, Scene 3 Is A Significant Turning Point In Othello
Othello – How Far Do You Agree That The Play's Main Concern Is To Explore The Worst and Best of Human Nature?
Analysis of Iago's Soliloquy In Which He Talk About "Divinity of Hell"
In Shakespeare's Othello, Iago Character Stays The Same Throughout But Othello's Does Not. How and Why Does This Happen?
In Which Way Does Iago Manipulate Characters and Contribute To Their Downfall In Shakespeare's Play Othello?
Is Othello's Tragic Conclusion Solely The Result of Iago's Machinations?
Critical Analysis of Iago's Soliloquy In Act 2 Scene 3 of Othello By William Shakespeare
Consider The Role of Iago In Act Iii Scene 3 and Show How Shakespeare Portrays Iago, and The Effect He Has On Othello
Othello Revision Notes – Themes and Quotes
Language and structure Language in Othello
Popular Questions
What makes Othello a tragic hero essay?
Because the downfall of Othello is all his own doing making him the tragic hero of the play, the play is considered a "drama of character where the downfall of the character is his or her own doing" (Crawford). As opposed to a drama of intrigue where outside events influence the character.
What is a good thesis for Othello?
A thesis statement should be argumentative (debatable) and function as a one-two sentence –condensation of your paper's primary claim (or argument). Thesis statements are necessary so that readers can identify the point and/or argument of your paper early in the paper.
What is the plot of Othello?
An ensign, expecting to be promoted to the post of a lieutenant, feels annoyed when his general appoints another man over his head. The ensign decides to revenge his supersession by plotting the ruin of both his general and his rival.
What is the summary of Othello?
Othello begins in the city of Venice, at night. Iago, an ensign in the Venetian army, is bitter about being passed over for lieutenant in favor of Cassio. Iago tells Roderigo that he serves Othello, the Moor who is the army's general, only in order to serve himself.
Othello Topics About Symbolism
Write About The Use of Imagery In 'Othello' and Its Contribution To The Overall Effect of The Play
The Use of Animal Imagery In Othello
The Women In Othello Lack Power and Importance
The theme of Gender Discrimination In Othello
Themes In Othello and Oleannas
Contextual Factors In Othello
Gender In Shakespeare's Othello, Romeo and Juliet, and Twelfth Night
Explore Shakespeare's Presentation of Jealousy In 'Othello'
Why Did Othello Marry?
Othello's Tragic Flaw
Recognition In Tragedy – Othello
Popular Questions
What is the animalistic nature of Othello?
The animalistic nature in Othello peaks in act 4, scene 1. Here, he experiences "epilepsy" as Iago calls it. Being consumed by the feeling of grudge, the Moor loses control. He is unable to act adequately. Instead of behaving like a human-being, Othello demonstrates his inner monster.
What is the significance of Desdemona's handkerchief in Othello?
Desdemona 's handkerchief is one of the most complex Othello symbols. Its uniqueness lies in the diversity of meanings it reflects. Originally, the handkerchief was made by an old female prophet. According to Othello's stories, the dye was extracted from the hearts of mummified virgins.
Who are the main characters in Othello?
They include Othello, who is the lead actor; Desdemona, Othello's wife; Cassio, Othello's lieutenant; and Iago a junior officer in the army. In addition, it is also an indication of the facts that human beings are always nosy and ready to participate in other people's issues.
⭐ Essay Examples on This Topic
Frequently Asked Questions
Don't hesitate to contact us. We are ready to help you 24/7
What is the basic story of Othello?
When Othello, a brave black general serving Venice, appoints Cassio as his chief lieutenant, the play begins. Iago is jealous of Othello's success and envious of Cassio. Othello's demise is planned by falsely accusing Othello's wife Desdemona and Cassio of an affair.
Is Othello black?
Othello is a Moor and even though we assume that he is from Africa because of his name, he doesn't mention his birthplace. Shakespeare could have believed that Moors were from Africa. However, they could also be from Spain or the Middle East. American actor John Edward McCullough portrays Othello in 1878.
What is Othello's tragic flaw?
Othello's fatal flaw is jealousy. He is a jealous man. Othello almost becomes insane thinking about his wife Desdemona and another man. But there is more to jealousy. Othello is prone to acting before he thinks before he fully understands a situation.
What kind of character is Othello?
Othello, a Christian Moor and general in the armies of Venice is a respected figure who is eloquent, physically strong, and well-respected by those around him. He is a man of high standing, but he still falls prey to insecurities due to his age, his soldier life, and his race.