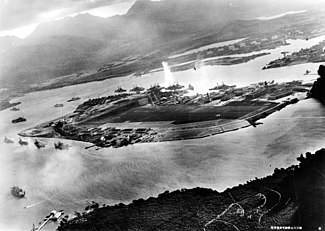 Attack on Pearl Harbor
We found
18

free papers on Attack on Pearl Harbor
Attack on Pearl Harbor
Rhetoric
A Day Which Will Live in Infamy Franklin D. Roosevelt asked for a Joint Session of Congress in which only the most important issues are discussed which gives the American People an idea of the magnitude of the matter at hand; this establishes credibility or Ethos right off the bat. The speech's audience is undoubtedly…
Show More
Frequently Asked Questions about Attack on Pearl Harbor
Don't hesitate to contact us. We are ready to help you 24/7
What is the main idea of the attack on Pearl Harbor?
The attack at Pearl Harbor was the idea of Admiral Isoroku Yamamoto, the Commander in Chief of the Japanese Combined Fleet, who argued that it would "give a fatal blow to the enemy fleet" (Rhodes 392). In October 1941, the attack was approved by the Japanese naval general staff.
What were the three main reasons for the Japanese attack on Pearl Harbor?
While there is no single correct or simple reason for the attack, this lesson should help students realize that Japan's motivation for attacking Pearl Harbor was driven by its political self-interests, its scarcity of economic resources and perceived opportunity costs, and America's embargo policy.
Why did the Japanese bomb Pearl Harbor essay?
On Sunday December 7, 1941 the Japanese attacked the United State's biggest naval base, Pearl Harbor. ... In conclusion, Japan attacked Pearl Harbor because of their nationalist mentality, America's embargo of oil to Japan and fearing that the United States will attack them first.