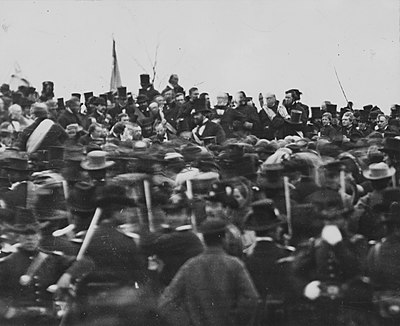 Gettysburg Address
We found
11

free papers on Gettysburg Address
Gettysburg Address
Speech
The secret to effective speech writing is being concise – saying the most you can in the fewest words.If I asked you to write a list of memorable speeches, chances are that the Gettysburg Address would appear on that list. So it's quite remarkable to consider that that particular speech is less than 300 words…
Show More
Frequently Asked Questions about Gettysburg Address
Don't hesitate to contact us. We are ready to help you 24/7
What are the three main points of the Gettysburg Address?
In the Gettysburg Address, Lincoln calls upon the living to resolve three things: one, "that these dead shall not have died in vain"; two, "that this nation, under God, shall have a new birth of freedom"; and three, "that government of the people, by the people, for the people, shall not perish from the earth." ...
What was the Gettysburg Address About summary?
In it, he invoked the principles of human equality contained in the Declaration of Independence and connected the sacrifices of the Civil War with the desire for "a new birth of freedom," as well as the all-important preservation of the Union created in 1776 and its ideal of self-government.
What was the main message of the Gettysburg Address?
Lincoln's message in his Gettysburg Address was that the living can honor the wartime dead not with a speech, but rather by continuing to fight for the ideas they gave their lives for.