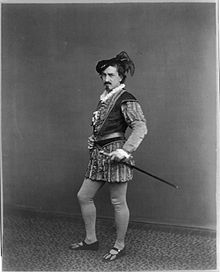 Iago
We found
71

free papers on Iago
Iago plays a major part in the downfall of Othello and the tragic conclusion of the play by twisting the truth and lying to Othello to convince him of Desdemona's infidelity. He works with the actions of the other characters to bring about Othello's demise whilst letting Othello jump to conclusions himself, thus making it…
Show More
Frequently Asked Questions about Iago
Don't hesitate to contact us. We are ready to help you 24/7
How would you describe Iago as a character?
Iago is a Machiavellian schemer and manipulator, as he is often referred to as "honest Iago", displaying his skill at deceiving other characters so that not only do they not suspect him, but they count on him as the person most likely to be truthful.
What motivates Iago essay?
Iago's evil intentions were of his own will and scheming, but were made possible with his unequaled ability to deceive. His motivation spurs from jealousy and betrayal, which he is not capable of tolerating well. He allows these emotions to eat away at him rather than seeking out a rational solution to his conflict.
Who is Iago essay?
Iago is the epitome of a conniving and evil character in a play. He is sly and quick witted, untrustworthy, and sexist (which is a counterproductive characteristic). He shows no sympathy after he blackmails people that trust him, and he spends the entirety of the play planning and executing their demise.
Why is Iago an interesting character?
He certainly seems to take great pleasure in preventing Othello from enjoying marital happiness, and he expresses his love for Othello frequently and effusively. It is Iago's talent for understanding and manipulating the desires of those around him that makes him both a powerful and a compelling figure.