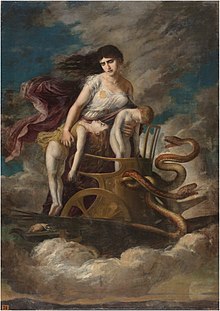 Medea
We found
10

free papers on Medea
            Euripides' Medea presents Medea's vengefulness towards her husband which leads her to murder the king and princess of Corinth as well as her children. The murder of these individuals stands as a result of Medea's humiliation after she found out that her husband, Jason, whom she aided in the escape from Colchis, intends to…
Frequently Asked Questions about Medea
Don't hesitate to contact us. We are ready to help you 24/7
What is the main message of Medea?
The main themes in Medea are revenge, passion, gender, and power. Revenge: Medea's revenge is cruel and excessive, and she pays a heavy personal price to enact it. Medea's righteous fury overwhelms everything else, allowing her to kill her own children so long as Jason also suffers.
What is the meaning of the play Medea?
The play explores many universal themes: passion and rage (Medea is a woman of extreme behaviour and emotion, and Jason's betrayal of her has transformed her passion into rage and intemperate destruction); revenge (Medea is willing to sacrifice everything to make her revenge perfect); greatness and pride (the Greeks ...
Why do you consider Medea evil?
Medea begins her marriage as the ideal loving wife who sacrificed much for her husband's safety. At the peak of the reading, she becomes a murderous villain that demands respect and even some sympathy. By the end, the husband and wife are left devoid of love and purpose as the tragedy closes.