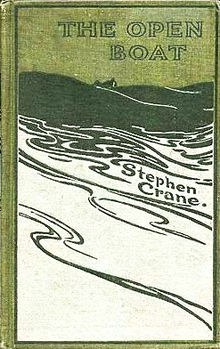 The Open Boat
We found
6

free papers on The Open Boat
Naturalistic literature was used by popular authors between the 1880's and early 1940's. Naturalistic literature was a great tool used to show the distinct role that environment can play on humans mentally and physically. Naturalistic literature can be broken down in few different areas: How nature affects human (man vs. nature), how it shows people…
Frequently Asked Questions about The Open Boat
Don't hesitate to contact us. We are ready to help you 24/7
What are the two themes of The Open Boat?
It is notable for its use of imagery, irony, symbolism, and the exploration of such themes as survival, solidarity, and the conflict between man and nature. H. G. Wells considered "The Open Boat" to be "beyond all question, the crown of all [Crane's] work".
What does The Open Boat say about humanity?
In "The Open Boat," Crane conveys an existential view of humanity: that is, he depicts a human situation in which the individual is insignificant in the universe and yet, through free will and consciousness, must interpret a reality that is essentially unknowable.
What is the conclusion of The Open Boat?
The big question about the ending surrounds the death of Billie the oiler. Why does he die? In his final moments, he tries to defeat nature by strength while the others use logic and reason. He also sort of abandons the others, too, leaving them floundering as he makes his way to shore.
What is the main idea of The Open Boat?
"The Open Boat" conveys a feeling of loneliness that comes from man's understanding that he is alone in the universe and insignificant in its workings. Underneath the men's and narrator's collective rants at fate and the universe is the fear of nothingness.