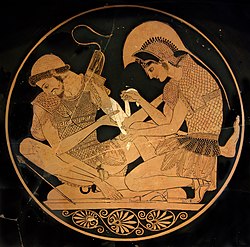 Trojan War
We found
20

free papers on Trojan War
I think I would be important for the Romans to link their cultural heritage & origins to the Trojan War because the gift of the Greek wooden horse started the war. Staying true to their culture could have resulted in no war at all. To an immigrant or visitor would have perceived a sense cultural…
Show More
Frequently Asked Questions about Trojan War
Don't hesitate to contact us. We are ready to help you 24/7
What happened in the Trojan War summary?
Trojan War, in Greek mythology, war between the Greeks and the people of Troy. The strife began after the Trojan prince Paris abducted Helen, wife of Menelaus of Sparta. ... At night the Greeks returned; their companions crept out of the horse and opened the city gates, and Troy was destroyed.
What is the message of the Trojan War?
The Iliad, the story of the Trojan War, offers several moral lessons to its readers, including the importance of leaders treating their soldiers with respect, the importance of accepting apologies, and the need for respecting family bonds.
Who is to blame for the Trojan War?
According to the ancient Greek epic poet Homer, the Trojan War was caused by Paris, son of the Trojan king, and Helen, wife of the Greek king Menelaus, when they went off together to Troy. To get her back, Menelaus sought help from his brother Agamemnon, who assembled a Greek army to defeat Troy.