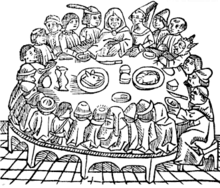 Canterbury Tales
We found
15

free papers on Canterbury Tales
Canterbury Tales
the wife of bath's tale
Wife of Bath Wife of Bath EssaysImportance of the Tale ofWife of Bath Some critiques of Wife of Bath make the claim that the Tale is an anti-climax after the robust presentation of the Prologue. Certainly, the prologue of Wife of Bath is robust. With its unstoppable vitality, strong language ("queynte" etc.) and homely, vigorous…
Show More
Frequently Asked Questions about Canterbury Tales
Don't hesitate to contact us. We are ready to help you 24/7
What is The Canterbury Tales about short summary?
In The Canterbury Tales, a group of pilgrims traveling to Canterbury Cathedral compete in a storytelling contest. This overarching plot, or frame, provides a reason for the pilgrims to tell their stories, which reflect the concerns sparked by the social upheavals of late medieval England.
What is the message of The Canterbury Tales?
One of the main lessons throughout all of the tales and main story is that honor and honesty is valued. In stories like the Physician's Tale, we see that the lying Appius who lusts after a young girl, is eventually caught for his lies and thrown in jail where he kills himself.
Why did Chaucer write The Canterbury Tales essay?
The tales could be described both as social realism and as estates satire. At the same time that Chaucer takes care to honestly show the perspective of each of his characters, he also aims to critique the hypocrisy of the church and the social problems posed by Medieval politics and social custom.