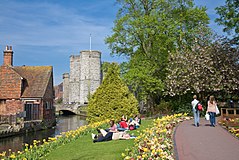 Canterbury
We found
3

free papers on Canterbury
Canterbury
Canterbury Tales
How would one be able to identify the use of oppressed women and distinctive rank of social classes throughout The Canterbury Tales? In specific tales, there are several prime examples of Anti-feminism and the differences of the social classes between the characters. During this time, men were known for their choices and women were known…
Anselm of Canterbury ( 1033 – 1109) Anselm, also known as Anselmo d'Aosta, is described by Chambers Biographical Dictionary as a scholastic philosopher and archbishop of Canterbury. Indeed a title accorded to him, according to the Internet Dictionary of Philosophy, was the Scholastic Doctor. Born in Italy, of a noble family, his mother saw that…
Canterbury
Christian
Philosophy
St. Anselm of Canterbury was between the age seventy-six and seventy-seven when he died. He was born around the year 1033-1034 in Aosta, Lombardy and died on April 21, 1109 in Canterbury. St. Anselm contributed to the philosophical system and tendencies of Christian thinkers known as "Scholasticism" (Pieper, Josef). He also contributed to the discovery…
Frequently Asked Questions about Canterbury
Don't hesitate to contact us. We are ready to help you 24/7
How do you quote a Canterbury tale in an essay?
If you are citing The Canterbury Tales from The Riverside Chaucer, you may replace the name of the tale with the fragment number. Hence you may cite line 1 of the Knight's Tale as "(Knight's Tale, 1)" or as "(I. 859)" (that is, line 859 of Fragment I).
What is so important about Canterbury?
Canterbury has been a European pilgrimage site of major importance for over 800 years since the assassination of Archbishop Thomas Becket in 1170. ... The pilgrims in the Canterbury Tales followed the Pilgrims Way to Canterbury, to worship and make penance at the tomb of the murdered Archbishop, Thomas Becket.
What is the thesis of The Canterbury Tales?
Thesis Statement: The Canterbury Tales is thought to provide an accurate representation of the various attitudes toward women in medieval women. The tales about women and love may be grouped in a way that several generalized views of women in Chaucer's day become clear.
Why did Chaucer write The Canterbury Tales essay?
The tales could be described both as social realism and as estates satire. At the same time that Chaucer takes care to honestly show the perspective of each of his characters, he also aims to critique the hypocrisy of the church and the social problems posed by Medieval politics and social custom.