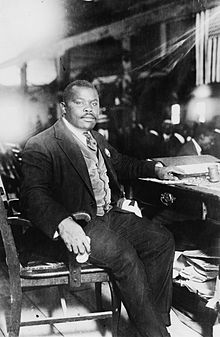 Marcus Garvey
We found
6

free papers on Marcus Garvey
Among black Americans, emphasizing their African origins and identity, their pride in being black, their desire to control their own communities, and sometimes the desire to establish a black nation in Africa or some part of the United States. The exact origins of black nationalist movements are lost in the largely unwritten history of blacks…
Frequently Asked Questions about Marcus Garvey
Don't hesitate to contact us. We are ready to help you 24/7
How did Marcus Garvey change the world?
Marcus Garvey organized the United States' first Black nationalist movement. In the years following World War I, he urged Black Americans to be proud of their identity. Garvey enjoyed a period of profound Black cultural and economic success, with the New York City neighbourhood of Harlem as the movement's mecca.
How did Marcus Garvey impact society?
Despite his controversial reputation, Garvey's legacy continued to instill pride and inspiration among many black people throughout the diaspora. His ideology has influenced members of the Nation of Islam, the Black Power movement, and the Rastafari movement.
What were Marcus Garvey's beliefs?
He believed that all black people should return to their rightful homeland Africa, and was heavily involved in promoting the Universal Negro Improvement Association (UNIA) which he founded in 1914. In the 1920s Garvey organised the black nationalist movement in America. A year later he had almost one million followers.
Who was Marcus Garvey essay?
Marcus Garvey, was born in Jamaica in 1887 and is considered to be the father of the Black Nationalism Movement. During the early 1900's, after reading Booker T. Washington's Up From Slavery, Garvey pledged to organize Blacks throughout the world with an agenda of Black unity and pride.