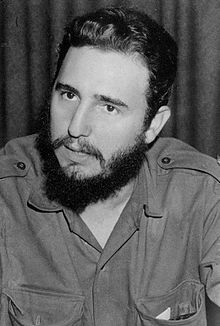 Fidel Castro
We found
7

free papers on Fidel Castro
Throughout President Kennedy's short term, he devoted the majority of his time to the foreign relations between Cuba and the Soviet Union. After the struggle of WW II, John F. Kennedy tried to keep a tight strong hold over Cuba as to not let Cuba turn to the Communist Soviet Union. Kennedy seen Cuba and…
Frequently Asked Questions about Fidel Castro
Don't hesitate to contact us. We are ready to help you 24/7
What did Fidel Castro do for Cuba?
Returning to Cuba, Castro took a key role in the Cuban Revolution by leading the Movement in a guerrilla war against Batista's forces from the Sierra Maestra. After Batista's overthrow in 1959, Castro assumed military and political power as Cuba's prime minister.
What happened to Fidel Castro?
90-year old former First Secretary of the Communist Party of Cuba and President of the Council of State, Fidel Castro died of natural causes at 22:29 (CST) in the evening of 25 November 2016.
What were Fidel Castro's ideals?
Castro took a relatively socially conservative stance on many issues, opposing drug use, gambling, and prostitution, which he viewed as moral evils. Instead, he advocated hard work, family values, integrity, and self-discipline.