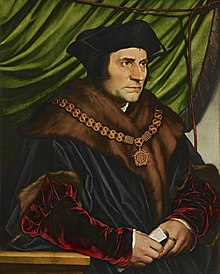 Thomas More
We found
5

free papers on Thomas More
Based on the story The Daughter of Time, Josephine Tey displays how history can be misinterpreted through a simple twisted reinterpretation from the person that holds the power at the time. This book as well as The Historian's Craft by Marc Bloch are readings that bring awareness to possibilities that require a bit of research…
Frequently Asked Questions about Thomas More
Don't hesitate to contact us. We are ready to help you 24/7
What did Sir Thomas More write and why was it important?
He wrote Utopia, published in 1516, which describes the political system of an imaginary island state. More opposed the Protestant Reformation, directing polemics against the theology of Martin Luther, Huldrych Zwingli, John Calvin and William Tyndale.
What is the ideal society Thomas More summary?
An imagined ideal society / place in which everything is perfect, pleasant, organized with no worries of money; and in its reality problems or harm do not exist among the Utopians with all things natural. All people are joyful and everything that happens is simply for the greater good of all.
What is the important work of Thomas More?
Thomas More is known for his 1516 book 'Utopia' and for his untimely death in 1535, after refusing to acknowledge King Henry VIII as head of the Church of England.
What were Thomas More ideas?
Because of his Humanist studies of classical philosophy, More had an ideal vision of morality that contrasted with the realities of his world, and one of the major goals of the Humanist movement was to integrate those ideals into real life. However, More knew that principles alone don't get anyone very far in politics.