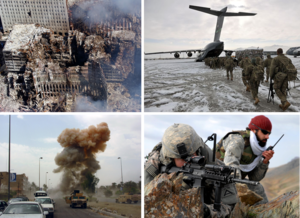 War on Terror
We found
5

free papers on War on Terror
The Things They Carried
War on Terror
Abstract The Things They Carried authored by Tim O'Brien is a partial fabled narrative and partial historical account of the Vietnam War (1955-1973). Throughout the novel O'Brien links the martial theme to what soldiers typically undergo as a result of their participation in war such as post-traumatic stress, gender-discrimination, dehumanization and death. These factors are…
Frequently Asked Questions about War on Terror
Don't hesitate to contact us. We are ready to help you 24/7
How did the war on terror affect the economy?
Terrorist acts can cause ripple effects through the economy that have negative impacts. The most obvious is the direct economic destruction of property and lives. Terrorism indirectly affects the economy by creating market uncertainty, xenophobia, loss of tourism, and increased insurance claims. Read More:
https://graduateway.com/is-peace-achievable-in-our-time/
What event led to the war on terror?
The War on Terror is the campaign launched by the United States of America in response to the September 11 attacks against organizations designated with terrorism. The campaign, whose stated objective was eliminating international terrorism, began in 2001.
What is the meaning war on terror?
The phrase war on terror was used to specifically refer to the military campaign led by the U.S., U.K. and their allies against organizations and regimes identified by them as a terrorist, and usually excludes other independent counter-terrorist operations and campaigns such as those by Russia and India.