Profile Essay Topics & Ideas
A profile essay is a type of essay that describes a person, place, or thing. It can be either an in-depth look at a single topic or an overview of several related topics. The profile essay is often used to introduce an audience to someone or something they're unfamiliar with, and it is usually written in first person.
The content of a profile essay can vary widely depending on the purpose and intent of the writer. Some common topics include:
What makes someone interesting
What makes a place special
Why something should be studied
Why you like/love something
How to Choose Essay Topic on Profile?
Want to write an essay about your profile? Here are some tips on how to choose the right topic!
Make sure it's relevant. If you're going to write about yourself, make sure you're writing about something that actually matters in your life. Don't just write about how you like puppies because that's not going to be interesting for anyone but you.
Be specific about what interests you. The best essays are ones that are personal and show emotion, so if you want to write an essay about your favorite movie, make sure it has some kind of personal connection for you—like maybe it reminds you of a time when you were feeling sad or happy or something else that matters to who YOU are as a person!
Try using different voices in your essay. You might want to write one section in first person (like "I love…"), then another section in second person ("You should…"), then another in third person—"She likes…"—and so on! This can help keep things interesting, and if done well it can also give readers a better understanding of who YOU are.
Tips on How to Write Profile Essay
Writing a profile essay is not as easy as it looks. It's a complex piece of writing that requires a lot of skills and knowledge. However, if you follow these 5 tips, you will be able to write a great profile essay!
Start with the name of the person you're writing about. This can be done by using an introductory sentence such as "My mother's name is Mary Smith." Then, move on by describing the physical characteristics of this person such as their height or weight.
Describe their personality traits such as their attitude towards life or how they react to certain situations.
Describe what they do for a living or what kind of hobbies they have in order to show who they are as a person.
Talk about some major events in their life such as marriage or divorce which would help readers understand why they behave differently related to certain topics such as politics or religion (if applicable). This can also be done by talking about any accomplishments that happened during their childhood years (e.g., winning an award for being good at sports).
Finally, explain why this person has made an impact on your life; this could include explaining why you admire them so much because they taught you valuable lessons while growing.
✒️ Good Profile Essay Topics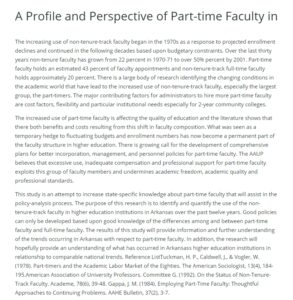 A Profile And Perspective Of Part-Time Faculty In
Accor Company Profile
City Demographics And Crime Profile
Company Profile Bigmak
Continental Army Vs British Redcoats: A Profile Of Two Armies
Country Profile India
Customer Profile Based On The Information You Provided
Diagnosis And Resulting Profile
Haiti Demographics Profile
How To Write A Profile
Ikea History, Ikea Company Profile, And Ikea Case Study
Iprofile Analysis
Kimuragon Enterprise Corp. Profile
Klaus Kinski: Psychological Profile
Leadership Profile
Marketing Profile
Organizational Profile Of Walt Disney Company
Policy Profile Of Senator Dick Lugar
Policy Profile Of Senator Richard Lugar The Follow
Popular Questions
How to write a profile essay?
Discover a remarkable subject to write a profile essay about. The person can be well-known or somewhat ordinary. Develop a loose outline based on the subject of your essay. Jot down the header, "Introduction." Start listing possible details that will be disclosed later from interviews. Compose a list of specific interview questions. They should be open-ended but specific and relevant to your essay. Questions should draw out information not commonly known about the person. Conduct the interview in a distraction-free zone. Establish a rapport early on to make the interviewee feel comfortable, which will churn out a more productive interview. Jot down any observations immediately following the interview. Consider the individual's habits, attitude, and other qualities that were observed. Revise the draft, incorporating important details and factual incidents that were initially missed. Start with an attention-grabbing lead sentence. Ensure that the beginning grabs the reader and pulls him in.
How to write a profile?
Keep your profile short and concise. Your professional profile should be no more than four brief sentences. You may write your profile as a list in Include the skills that are relevant to the job you are applying for. Include any achievements relevant to the job industry. Place your profile where it's highly visible.
What is a profile paper?
A personal profile essay requires two functions: interviewing the person and writing the profile. Through a combination of observations, quotes and narratives, a well-written profile essay should communicate a concise, visual portrayal of the essay subject.
✍ Interesting Profile Essay Topics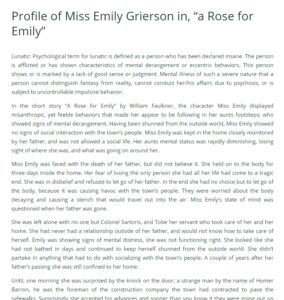 Profile Of Miss Emily Grierson In, "A Rose For Emily"
Profile Of My Mother
Profile: Bishop Richard L. Johnson
Profiles In American Enterpris
Purple Hibiscus: Character Profiles Sample
Shaving Profile
Sociocultural And Exceptionality Profile Of A Student
Sofield Digital, Company Profile
Student Profile
Supply Chain Risk Management Profile Of The Hyundai Motor Company
Target Market / Customer Profile
Textile Industry Profile
The Airlines In India Industry Profile Tourism
The Future Of Hotels In China To 2019: Market Profile
The Striking Amount Of Fake Online Profiles In Social Media
Uniqlo Company Profile
Popular Questions
What is an example of a profile essay?
Write about professional authors. How much do you think these people make? Do you think the death penalty should be introduced? Give your reasons.What is an event that you have attended lately? Who is your role model and what makes him/her stand out? Write about street families and how they can be rehabilitated
What are some good topics for a personal essay?
Some topics for a personal essay that most readers tend to find interesting are: Fitness/health Relationship strategies Customer service experiences (positive or negative). Work encounters or issues (like harassment, retirement, or red flags in job searches or signs in your existing company that signify it's time for a career change).
Profile Essay Topics for College Students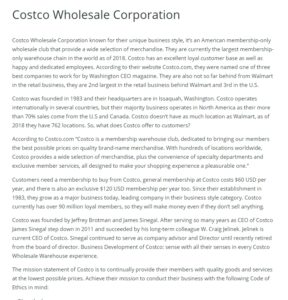 A Cultural Profile of !kung Culture
A Profile of The Company Costco Wholesale
A Study of Osama Bin Laden's Profile as a Terrorist
Analysis of a Teenager's Personality Profile
Analysis of Leadership Profile – José Mourinho
Bluetooth Generic Attribute (gatt) Profile
Career Profile Research Assignment: a Career of Social Worker
Company Profile & Organization Objectives of Rammal Group, One of The Lebanese Leading Retailers for Home Appliances.
Company's Profile Analysis of The Bootlegger Company
Informative Profile Essay Topics
Consumer Profile: Defining The Ideal Customer
Difference in Transcriptome Profile of Bemisia Tabaci Med Gut in Response to Transmissible Tomato Yellow Leaf Curl Virus
How The Scope Trial Was Affected by The High Profile Personalities
My Understanding of Brand You and Impressive Linkedin Profile
My Work Profile and Pursue of a Ph.d. in Kinesiology
Ola Company's Profile
Review of The Main Components of The Linkedin Profile
Socio-economic Profile of Jammu and Kashmir
The Company Profile of Mcdonald's
The Philips Company: Analysis and Profile of The Company
Popular Questions
How to write an informative essay?
For example, if you are a science student, you can search for interesting discoveries or theories to write your informative essay. 2. Identify the Audience Determining the audience can help select the topic as well. When you know who you are writing for and what they expect from the essay. It gets easier to select a topic idea.
What is a typical profile essay example?
A typical profile essay example is a creative description of a personality, an event, or an object that relates to a particular person. In some cases, you can choose topics or ideas that describe a celebrity or a scientist. It must deal with the facts and provide descriptions.
How to write a good informational paper?
To ensure you have enough to write about, and your paper will be interesting, it's important to farm out some idea. Reading the news is a great place to start generating some perspectives for an informational topic. Newsworthy topics will be of current interest and can be in many subjects.
What are the different types of college essays?
The essays can be of various academic subjects, sizes, formats, etc. There are four general types of essay: expository, persuasive, analytical, and argumentative. Different types of essay assume different approaches to writing.
How do I write a profile?
How to write a profile for a resume: Put the profile section at the top of your resume. Decide which kind of the resume profile is the best for you. Write it at the very end, once your entire resume is ready. Pick the accomplishments that match the job offer. Quantify achievements in the profile section of your resume.
How do you write a profile about yourself?
To get started, check out these 9 tips on how to write an essay about yourself: Create a List of Questions. ... Brainstorm and Outline. ... Be Vulnerable. ... Use Personal Examples. ... Write in the First Person. ... Don't Be Afraid to Show Off…But Stay on Topic! ... Show Personality. ... Know Your Audience.
How do I write a personal profile on someone else?
Write about the person without stating any of your own opinions in the story. Use third person (he said, she did), with accurate quotes in the person's own words. Try to capture a sense of the individual's personality and mood. Quote at least two other people who know the subject of your story well.
How do you start a profile essay?
There are good ways to start an essay like starting with a quote or a fact or a surprising information about the person or the subject. Lastly, there should be a strong statement at the end of the introduction paragraph.