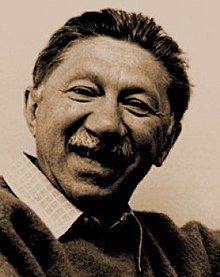 Abraham Maslow
We found
8

free papers on Abraham Maslow
Abraham Maslow
Maslow's Hierarchy of Needs
Motivation
Self Esteem
Abraham Mascot: A Humanistic Phenomenon Abstract Abraham Mascot Is considered to be the father of Humanistic Psychology. Though growing up In a cruel household, he accomplished much In his lifetime. An avid advocate of "Human Motivation", Mascot developed many theories corresponding to the subject. This article goes into detail on his theory of Hierarchy of…
born
April 1, 1908, Brooklyn, New York, NY
died
June 8, 1970, Menlo Park, CA
description
Abraham Harold Maslow was an American psychologist who was best known for creating Maslow's hierarchy of needs, a theory of psychological health predicated on fulfilling innate human needs in priority, culminating in self-actualization.
books
A Theory of Human Motivation 1943, Motivation and Personality 1954, Toward a psychology of being 1962
education
Cornell University, Boys' High School, The City College of New York
children
Ann Maslow Kaplan, Ellen Maslow
quotations

"To the man who only has a hammer, everything he encounters begins to look like a nail.""It isn't normal to know what we want. "What is necessary to change a person is to change his awareness of himself.""One can choose to go back toward safety or forward toward growth.

information

Known for: Maslow's hierarchy of needs

Spouse: Bertha Goodman (m. 1928–1970)
Frequently Asked Questions about Abraham Maslow
Don't hesitate to contact us. We are ready to help you 24/7
What does Maslow's theory say?
Maslow's hierarchy of needs is a theory of motivation which states that five categories of human needs dictate an individual's behavior. Those needs are physiological needs, safety needs, love and belonging needs, esteem needs, and self-actualization needs. Read More:
https://graduateway.com/as-the-article-states/
What is Maslow's hierarchy of needs essay?
Abraham Maslow proposed a theory concerning human motivations that was based upon a hierarchy of needs. Basic physiological drives like thirst, hunger and sleep, as well as the need for safety, shelter and some feeling of security are the motivational needs that must first be met.
Why is Abraham Maslow important to psychology?
Abraham Maslow was a psychologist who is considered to be the father of humanistic psychology. His greatest contribution to the humanist movement was his hierarchy of needs, which said that basic physical needs must be met first before people can realize their full potential.
Why is Maslow's hierarchy of needs important essay?
the Maslow's hierarchy of need will help people. Someone should also know which of the needs are challenging for them so that they can go work on them. The Maslow's hierarchy of needs is a model that puts the basic needs of life before the higher needs.