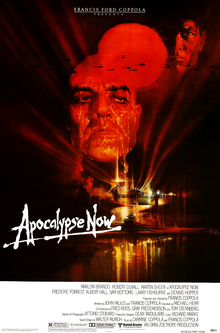 Apocalypse Now
We found
5

free papers on Apocalypse Now
Apocalypse Now
Heart Of Darkness
Francis Ford Coppola has crafted his film Apocalypse Now to adapt the main values and attitudes as Joseph Conrad's novella Heart of Darkness. Whilst the themes of imperialism and human evil are evident in both texts, Apocalypse Now further builds upon these themes through the manipulation of the concepts of the journey to comment on…
Frequently Asked Questions about Apocalypse Now
Don't hesitate to contact us. We are ready to help you 24/7
How is Apocalypse Now like Heart of Darkness?
Apocalypse Now draws heavily from Heart of Darkness for its plot and themes. Both stories deal with the horrors of imperialism, the nature of evil, and the false dichotomy between civilization and savagery.
What is the message of Apocalypse Now?
While the subject of the story's critique is different, Coppola preserves the core message of the novella – that all humans are capable of falling into their inner darkness and doing despicable things – partially through his reuse of Conrad's themes and narrative structure.
What kind of story is Apocalypse Now?
Apocalypse Now is a psychological thriller because—well, just look at Kurtz. Willard's a troubled soul, too, and he shares his psychological journey in his voiceover narration. The movie takes us into a world where war has messed with the minds of both the hero and the villain.
Why is Apocalypse Now important?
The epic scale of the production, shot on location in the Philippines jungle, and Coppola's operatic direction that brought together spectacular cinematography, a hypnotic soundtrack and brooding performances, make Apocalypse Now a major cinematic landmark. ... With time, it gradually acquired the status of a classic film.