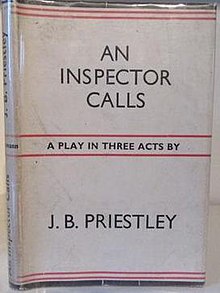 An Inspector Calls
We found
14

free papers on An Inspector Calls
In this essay I will be discussing why J. B Priestly wrote the play 'An Inspector Calls' and how he uses the to influence the social hierarchy in 1946. The play was set in 1912 in the dining room of the Birling's house in Brumely, an industrial city in the North Midlands. The Birling's consists…
Show More
| | |
| --- | --- |
| genre | Drama |
| originally published | July 6, 1945 |
| description | An Inspector Calls is a play written by English dramatist J. B. Priestley, first performed in the Soviet Union in 1945 and at the New Theatre in London the following year. It is one of Priestley's best-known works for the stage and is considered to be one of the classics of mid-20th-century English theatre. |
| setting | Edwardian England |
| characters | Arthur Birling, Eva Smith, Inspector Goole, Sheila Birling, Eric Birling, Gerald Croft |
| information | Playwright: J. B. Priestley |
Frequently Asked Questions about An Inspector Calls
Don't hesitate to contact us. We are ready to help you 24/7
In what ways is the inspector significant in the play essay?
Inspector Goole is presented as an omnipotent, powerful figure throughout the play; his presence immediately has the power to change the light and cheerful atmosphere of the Birlings' dinner party. The lighting changes from "pink and intimate" to "brighter and harder" once the inspector arrives.
What is the key message of An Inspector Calls?
Public versus Private. The Inspector, and the play at large, challenges the "privacy" of the private sphere, by revealing that actions that the family may have conceived of as private and personal really have an effect beyond themselves and their family.
What is the moral of the story in An Inspector Calls?
JB Priestley uses An Inspector call to convey a moral message, which is that you should not judge people on their class i.e. lower working class/higher class. He also expands the views of socialism within the message; this is all made very clear by the use of dramatic devices.