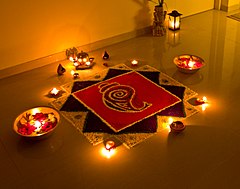 Diwali
We found
9

free papers on Diwali
            Festivals are different events that are celebrated by a local community which usually reflect that community's tradition, belief and culture.  For some communities, festivals usually relates to their religious beliefs wherein they celebrate to either praise or give thanks to their God.  Today, festivals are usually celebrated to pass on the tradition to the…
Frequently Asked Questions about Diwali
Don't hesitate to contact us. We are ready to help you 24/7
What is the essay of Diwali?
According to Hindus, Diwali is a festival which commemorates the return of Lord Ram to Ayodhya along with his wife Sita, brother Lakshman and ardent devotee Hanuman after defeating the demon king Ravan. This religious festival signifies the victory of good over evil and the triumph of light over darkness.
Why do we celebrate Diwali 10 lines?
1) Diwali is known as the festival of lights. 2) Diwali is one the most famous and the biggest festival of India. 3) This festival is celebrated in the memory of Lord Rama who returned to Ayodhya after fourteen years of exile. 4) On this occasion Hindus light candles and decorate their houses with Rangoli.