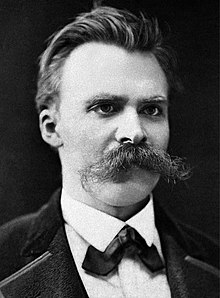 Friedrich Nietzsche
We found
4

free papers on Friedrich Nietzsche
Friedrich Nietzsche
God
Metaphysics
Reason
Religion
Theology
"God is Dead!" Nietzsche wrote.  He also asked "Where is God gone?"  The metaphorical madman of Nietsche exclaimed, "I mean to tell you! We have killed him, you and I! We are all his murderers! "  "But how have we done it?" Nietzsche also wrote,  "How were we able to drink up the sea? Who…
born
October 15, 1844, Röcken, Lützen, Germany
died
August 25, 1900, Weimar, Germany
description
Friedrich Wilhelm Nietzsche was a German philosopher, cultural critic, composer, poet, writer, and philologist whose work has exerted a profound influence on modern intellectual history. He began his career as a classical philologist before turning to philosophy.
books
A Book for All and None 1883, Beyond Good and Evil 1886,
education
Leipzig University (1865–1869), University of Bonn (1864–1865)
movies
The Divine Comedy 1991, Carbon Elvis 2007, Die Nacht 1985
quotations

"Without music, life would be a mistake." "It is not a lack of love, but a lack of friendship that makes unhappy marriages." "That which does not kill us makes us stronger." "I'm not upset that you lied to me, I'm upset that from now on I can't believe you."

information

Influenced: Sigmund Freud, Jean-Paul Sartre, Martin Heidegger, Michel Foucault, Albert Camus

Influenced by: Immanuel Kant, Arthur Schopenhauer, Plato, Zoroaster
Frequently Asked Questions about Friedrich Nietzsche
Don't hesitate to contact us. We are ready to help you 24/7
What does Nietzsche say about the meaning of life?
For Nietzsche, the meaning of life is to live authentically and powerfully, creating one's own goals and values. ... Nietzsche promotes a simple yet profound message, which is that we are all individually responsible for what we do, who we are, and the world we live in.
What is the idea of Friedrich Nietzsche on religion?
Nietzsche attacked the Christian religion, as represented by churches and institutions, for what he called its "transvaluation" of healthy instinctive values. Transvaluation consists of the process by which one can view the meaning of a concept or ideology from a "higher" context.
What was Nietzsche's main point?
As the title of one of his books suggests, Nietzsche seeks to find a place "beyond good and evil." One of Nietzsche's fundamental achievements is to expose the psychological underpinnings of morality. He shows that our values are not themselves fixed and objective but rather express a certain attitude toward life.
What was Nietzsche's theory?
Nietzsche claimed the exemplary human being must craft his/her own identity through self-realization and do so without relying on anything transcending that life—such as God or a soul.