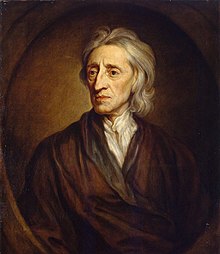 John Locke
We found
15

free papers on John Locke
Introduction John Locke (1632-1704), is one of the most influential political theorists of the modern period. In the Two Treatises of Government, he protected the claim that men are by nature free and equivalent against claims that God had created all people naturally subject to a ruler. He emphasized that human beings have rights, such…
Show More
born
August 29, 1632, Wrington, United Kingdom
died
October 28, 1704, High Laver, United Kingdom
description
John Locke FRS was an English philosopher and physician, widely regarded as one of the most influential of Enlightenment thinkers and commonly known as the "Father of Liberalism".
books
Thomas Hobbes, Jean-Jacques Rousseau, Montesquieu, David Hume, René Descartes, Voltaire, Immanuel Kant
education
Christ Church (1652–1675), Westminster School
quotations

The improvement of understanding is for two ends: first, our own increase of knowledge; secondly, to enable us to deliver that knowledge to others. What worries you, masters you. The end of law is not to abolish or restrain, but to preserve and enlarge freedom.,"Being all equal and independent, no one ought to harm another in his life, health, liberty, or possessions." "Reading furnishes the mind only with materials of knowledge; it is thinking that makes what we read ours."

information

Notable ideas: Liberty, State of nature, Property, Tabula rasa

Influenced: Jean-Jacques Rousseau, Immanuel Kant, David Hume, Voltaire, Adam Smith

Influenced by: Thomas Hobbes, René Descartes, Aristotle, Plato, Francis Bacon, Isaac Newton
Frequently Asked Questions about John Locke
Don't hesitate to contact us. We are ready to help you 24/7
Is the John Locke Institute Essay Competition prestigious?
Competition is prestigious and attracts thousands of students participating each year. For students who are interested in pursuing a career in writing and gaining more practice and support in writing an essay for this competition, Aralia offers a specialized writing program. Read More:
https://graduateway.com/john-locke-the-state-of-nature/
What does Locke explain on human understanding?
Locke divides simple ideas into four categories: (1) ideas we get from a single sense, such as sight or taste; (2) ideas created from more than one sense, such as shape and size; (3) ideas emerging from reflection; and (4) ideas arising from a combination of sensation and reflection, such as unity, existence, pleasure, ...
What is the Essay by John Locke?
John Locke's most famous works are An Essay Concerning Human Understanding (1689), in which he developed his theory of ideas and his account of the origins of human knowledge in experience, and Two Treatises of Government (first edition published in 1690 but substantially composed before 1683), in which he defended a ...
Where did Locke Write An Essay Concerning Human Understanding?
While in exile in Holland, Locke focused his energies primarily on the Essay. In 1688 William of Orange led the Glorious Revolution, and Locke was able to return to England. In 1689 he published the Essay Concerning Human Understanding and the Two Treatises on Government.