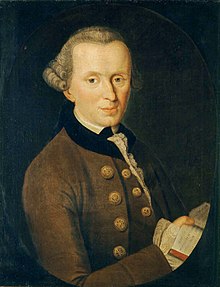 Immanuel Kant
We found
18

free papers on Immanuel Kant
This essay focuses on a dilemma that I have faced in the workplace. Firstly, I will describe the dilemma and then present how I used ethical theory to analyse the actions that I took to best resolve the situation. Deontological theories are used in my analysis. Applying Kantian theory to my actions supports that my…
Show More
Frequently Asked Questions about Immanuel Kant
Don't hesitate to contact us. We are ready to help you 24/7
What is Kantian ethics essay?
Kant describes taking a possible action, a maxim, and testing whether it is morally permissible for a person to act in that manner by seeing if it would be morally permissible for all people in all times to act in that same manner. ... Read More:
https://graduateway.com/moral-intuition/
What is self for Kant essay?
According to Kant, both of these theories are incomplete when it comes to the self. According to him, we all have an inner and an outer self which together form our consciousness. The inner self is comprised of our psychological state and our rational intellect. The outer self includes our sense and the physical world.
What is the idea of Immanuel Kant?
Kant's ethics are organized around the notion of a "categorical imperative," which is a universal ethical principle stating that one should always respect the humanity in others, and that one should only act in accordance with rules that could hold for everyone.
Why is Immanuel Kant important?
Immanuel Kant was a German philosopher and one of the foremost thinkers of the Enlightenment. His comprehensive and systematic work in epistemology (the theory of knowledge), ethics, and aesthetics greatly influenced all subsequent philosophy, especially the various schools of Kantianism and idealism.