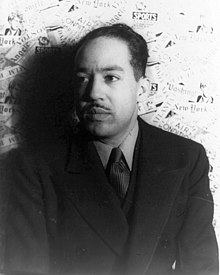 Langston Hughes
We found
35

free papers on Langston Hughes
What is Bop? In "Bop" by Langston Hughes, the narrator describes Bop as Be-Bop, the opposite of Re-Bop. The general idea of Be-Bop is that it is current, makes sense, what the colored boys play and that it is authentic. This leads to Re-Bop having the definition of being white boys play, an imitation, and…
Show More
| | |
| --- | --- |
| born | February 1, 1901, Joplin, MO |
| died | May 22, 1967, Stuyvesant Polyclinic |
| description | James Mercer Langston Hughes was an American poet, social activist, novelist, playwright, and columnist from Joplin, Missouri. One of the earliest innovators of the literary art form called jazz poetry, Hughes is best known as a leader of the Harlem Renaissance. |
| books | The collected poems of Langston Hughes 1994, The Weary Blues 1926, The Negro Speaks of Rivers 2009 |
| education | Lincoln University (1926–1929), Columbia University (1921–1922) |
| movies | Marshall, Looking for Langston, Black Nativity, The Strollin' Twenties, Way Down South |
| quotations | "My soul has grown deep like the rivers." "Let the rain kiss you. "Hold fast to your dreams, for without them life is a broken winged bird that cannot fly." "Ever'thing there is but lovin' leaves a rust on yo' soul. |
| information | Awards: Guggenheim Fellowship for Creative Arts, US & Canada, Spingarn Medal |
Frequently Asked Questions about Langston Hughes
Don't hesitate to contact us. We are ready to help you 24/7
What did Langston Hughes write about?
A major poet, Hughes also wrote novels, short stories, essays, and plays. He sought to honestly portray the joys and hardships of working-class black lives, avoiding both sentimental idealization and negative stereotypes. Read More:
https://graduateway.com/comparing-two-poems/
What inspired Langston Hughes to write?
Hughes was influenced by American poets Paul Laurence Dunbar, Carl Sandburg and Walt Whitman. ... Langston studied engineering at Columbia University for a year (1921-22), eventually leaving because of racial prejudice at the school as well as his growing desire to return to Harlem and write poetry.
What is the message of the poem Langston Hughes?
Langston Hughes's poems elicit themes that expose African American heritage and culture to the world. He voices against oppression and injustice that the blacks suffered in America. He also protests against the Jim Crow Laws of the South and portrays their effects on American society and, particularly, Blacks.
Why was Langston Hughes so important?
Langston Hughes was one of the most important writers and thinkers of the Harlem Renaissance, which was the African American artistic movement in the 1920s that celebrated black life and culture. ... His literary works helped shape American literature and politics.