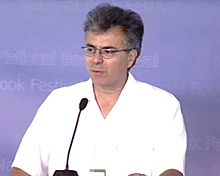 Gary Soto
We found
7

free papers on Gary Soto
Gary's Soto "Mexicans Begin Jogging," describes an event that happened when he worked in a factory where illegal Mexican workers were employed. Although the poem is simple, Soto brings identity, ironic, drama, and imagery to his audience. The narrative reflects irony the speaker went through and the dilemma that Mexican Americans go through. The poems…
born
April 12, 1952 (age 69 years), Fresno, CA
description
Gary Anthony Soto is an American poet, novelist, and memoirist.
books
Baseball in April and Other Stories 1990, Too many tamales 1992, Buried Onions 1997
education
University of California Irvine (1974–1976), California State University, Fresno
children
Mariko Heidi Soto
quotations

"It appears these days I don't have much of a life because my nose is often stuck in a book. "Because nothing should be wasted. "going back and forth, back and forth, getting nowhere"

information

Spouse: Carolyn Oda (m. 1975)

Awards: Guggenheim Fellowship for Creative Arts, US & Canada, American Book Award

Parents: Angie Soto, Manuel Soto
Frequently Asked Questions about Gary Soto
Don't hesitate to contact us. We are ready to help you 24/7
What does the jacket in the Soto story symbolize?
The Jacket by Gary Soto In "The Jacket" Gary Soto uses symbolism to reflect on the characterization and development of the narrator. ... The jacket is used as a symbol to portray poverty, the narrator's insecurity, and the narrator's form of self-destruction.
What is Gary Soto writing style?
Again, Soto is very much a contemporary American poet, writing autobiographically in free verse and using images that are drawn from ordinary experience and popular culture. His sympathies for the poor are very typical of contemporary writers from ethnic or underprivileged backgrounds.
What is the theme of Gary Soto?
However, Soto is perhaps best known and most beloved as a writer for children and young adults. Exploring universal themes like alienation, family life, and choices, Soto's work for young and adolescent readers has been praised for its honest portrayal of communities too often relegated to the margins of American life.
What rhetorical devices are used in the pie by Gary Soto?
Through the use of contrast, diction, imagery as well as allusion, the author thoroughly explains how Gary was impacted by the decisions he made because of his religion yet his desire overpowered his determination to stay holy throughout his mind and soul.