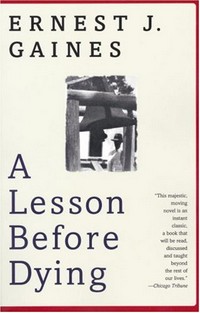 Lesson Before Dying
We found
7

free papers on Lesson Before Dying
Grant is the protagonist of A Lesson Before Dying by Ernest Gaines shows how Grant went through a difficult life in a racist society in the South. Grant spent his life in Bayonne, a segregated racist community which made him intense. He does not believe anything would change and escaping is the only thing he…
author
Ernest J. Gaines
genre
Novel,Historical Fiction
originally published
1993
description
A Lesson Before Dying is Ernest J. Gaines' eighth novel succeeding a decade after A Gathering of Old Men, published in 1993.
characters
Tante Lou, Grant Wiggins, Miss Emma, Henri Pichot, Jefferson
quotations

"I have no more to say except this: We must live with our own conscience." "How do people come up with a date and a time to take life from another man? "And that's all we are Jefferson, all of us on this earth, a piece of drifting wood.

information

Pages: 256 pp

Style: A Lesson Before Dying is told in chronological order with very little rewinding or fast-forwarding. It starts at the start, and finishes at the finish. It doesn't try anything sneaky like flashbacks or foreshadowing. There's a huge contrast between Grant's narrative style and Jefferson's.,

Thesis statement: Thesis: In the novel A Lesson Before Dying Jefferson is able to transform from a "worthless" individual into a man who dies with dignity and respect with the help of Miss Emma, Grant, and his own self reflection.,
Frequently Asked Questions about Lesson Before Dying
Don't hesitate to contact us. We are ready to help you 24/7
WHAT DOES A Lesson Before Dying Teach You?
A Lesson Before Dying is about the ways in which people declare the value of their lives in a time and place in which those lives seemingly count for nothing. It is about the ways in which the imprisoned may find freedom even in the moment of their death.
What is the most important lesson to learn before dying essay?
That being said, the most important lesson one should learn before dying is that life is worth more than anyone 's opinion, so prove them wrong. This lesson is showcased through three of Gaines dynamic characters, throughout the course of the novel.