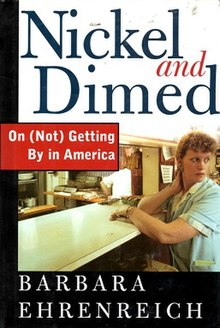 Nickel and Dimed
We found
10

free papers on Nickel and Dimed
Plato's definition of rhetoric is, "the art of ruling the minds of men. " (Atlantic Monthly) All authors aim for this goal; to control how the mind perceives ones writing and to lead the audience to believe in what they have written is true. Skilled writers utilize this rhetoric to fulfill just that; yet the…
author
Barbara Ehrenreich
originally published
January 1, 2001
information

Nickel and Dimed: On Getting By in America is a book written by Barbara Ehrenreich. Written from her perspective as an undercover journalist, it sets out to investigate the impact of the 1996 welfare reform act on the working poor in the United States.

Pages: 224 pp

Awards: Christopher Award
Frequently Asked Questions about Nickel and Dimed
Don't hesitate to contact us. We are ready to help you 24/7
What is the argument in nickel and dimed?
Ehrenreich tears the mask off of the idea that there is no class system in America, making the argument that the class of minimum wage workers in America are being "nickel and dimed" by the power structure which is preventing them from living a life of comfort.
What is the tone of nickel and dimed?
Nickel and Dimed could be described as having a biting, almost angry, tone.
Who is the intended audience for nickel and dimed?
The intended audience for this book is anyone, but it is more directed towards low wage workers because they can understand where she is coming from.
What is the author's purpose in nickel and dimed?
The purpose behind Nickel and Dimed is to illustrate, in vividly human terms, the difficulties and suffering of this overlooked group.