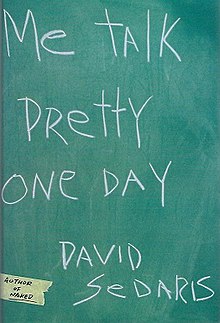 Me Talk Pretty One Day
We found
2

free papers on Me Talk Pretty One Day
A reader, writer, or a person who talks substantially or scant does not think in his or her mind that he or she is talking pretty. David Sedaris's essay "Me talk Pretty One Day" is a constructed paper about how he one day hopes to in his words "talk pretty". This essay is published in…
The narratives presented by both writers in "Prison Studies" and "Me Talk Pretty One Day," both describe each author's pursuit of literacy given different circumstances. In Sedaris's account, he is illiterate in the French language, where Malcolm X struggles to learn English. Both are learning in a foreign environment, but places like France and prison…
author
David Sedaris
genre
Essay collection
originally published
May 2, 2000
description
Me Talk Pretty One Day, published in 2000, is a bestselling collection of essays by American humorist David Sedaris. The book is separated into two parts.
quotations

"there's a reason regular people don't appear on TV: we're boring." "He die one day, and then he go above of my head to live with your father." "clatter of a typewriter suggests that you're actually building something."

information

Pages: 288 pp (first edition, hardcover)

Cover artist: Jacket design by Chip Kidd

LC Class: PS3569.E314 M4 2000

Audience: The intended audiences of this essay are people who have learned a foreign language that can relate to the struggles and insecurities that go along with this experience. It can also be for anyone who enjoys stories with this specific type of comedy, it's quirky and sassy.

Thesis statement: What is a good thesis statement for Me Talk Pretty One Day? Sedaris's argument is about the nature of education, and how, even as an adult, the dynamics of the classroom remain the same. He writes about how learning is hard, and not knowing the answer to a question can be shameful.
Frequently Asked Questions about Me Talk Pretty One Day
Don't hesitate to contact us. We are ready to help you 24/7
What are the main points of Me Talk Pretty One Day?
The main key points of this article are getting over your fears of learning a new language, the first day of class, and understanding the language. My goal is to provide a simplified, more detailed essay of the article about in a way the audience would enjoy.
What was the tone of Me Talk Pretty One Day?
Me Talk Pretty One Day is written in an informal, playful tone. Sharp wit and irony appear on every page, and are a clear reflection of Sedaris's cleverness as well as his intelligence. This is an irony in itself since Sedaris is often so self critical when it comes to his intelligence.