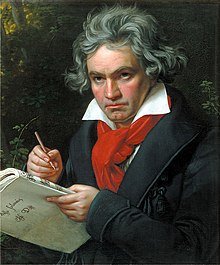 Ludwig van Beethoven
We found
10

free papers on Ludwig van Beethoven
Ludwig van Beethoven
Sacrifice
Musical and artistic geniuses may have successful careers, but not all of them could balance out their work alongside their lives. Success comes with a price and that often results in the lack of relationships of the artists. The careers famous artist face create a hard life for themselves to live because of the popularity…
Frequently Asked Questions about Ludwig van Beethoven
Don't hesitate to contact us. We are ready to help you 24/7
How would you describe Ludwig van Beethoven's music?
Ludwig van Beethoven was a German pianist and composer widely considered to be one of the greatest musical geniuses of all time. His innovative compositions combined vocals and instruments, widening the scope of sonata, symphony, concerto and quartet.
What are Beethoven's concerns and his conclusions?
The autopsy data indicate that Beethoven had cirrhosis of the liver; and probably also renal papillary necrosis, pancreatitis and possibly diabetes mellitus. His lifestyle for at least the final decade of his life indicated that he overindulged in alcohol in the form of wine.
Why is Beethoven so important?
Beethoven's importance in Musical History is that his work marks the end of the Classical period of classical music and the beginning of the Romantic period. ... The symphony was an invention of Classical music, developed to show off the increasingly large orchestra.