Artists draw for many reasons, including:
to define their ideas, to plan for larger projects, to resolve design issues in preparatory sketches, and to record their visual observations
When Raphael was preparing to paint his fresco The School of Athens he did a large drawing called ________ to help place the design on the wall.
a cartoon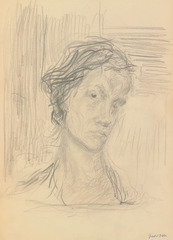 Pencils have a range of values from very light to very dark. If you wanted a dark value, which of these pencil numbers would be the darkest?
9B
When creating his silverpoint drawing Heads of the Virgin and Child, Raphael employed ________, a process in which the artist uses closely arranged parallel lines to create value.
hatching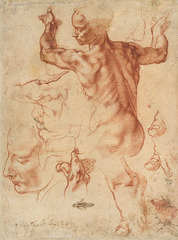 Artists' chalk is powdered calcium carbonate combined with this binder.
gum arabic
(art by Michelangelo using red chalk)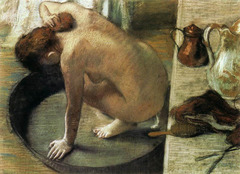 The French Impressionist Edgar Degas used this dry drawing medium when he created The Tub in 1886.
pastel
The French artist Georges Seurat created a study for his huge painting La Grande Jatte using this waxy medium.
Conte crayon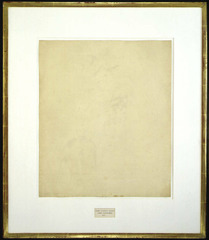 Erasers can be used by artists as drawing tools. In 1953 Robert Rauschenberg created a work by erasing a drawing by this famous Abstract Expressionist painter.
Willem de Kooning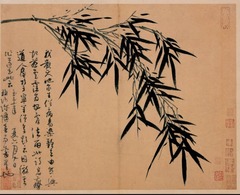 East Asian artists have traditionally applied ink using a ________.
brush
In which country was paper invented by Cai Lun, who made it out of macerated plant fibers suspended in water?
China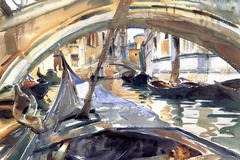 In addition to its fiber content and weight, paper is also classified by its surface texture. What is the type of paper that is created on a screen with a grid-like structure?
wove
Paint in its most basic form is composed of ________ and a liquid binder.
pigment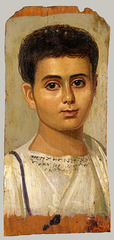 The binding agent in encaustic painting is ________.
beeswax
The binding agent for tempera paint is ________.
egg
This twentieth-century American painter chose tempera to describe his neighbor's "extraordinary conquest of life" in the work Christina's World.
Andrew Wyeth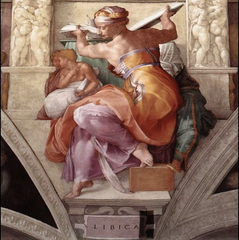 This painting process relies on freshly applied lime plaster to hold the pigment in place.
fresco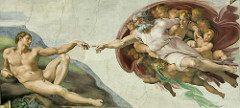 There are two types of fresco. Fresco secco, which means dry fresco, and this kind, which means good fresco.
buon
Taking four years to complete, the Sistine Chapel ceiling was painted by this artist in sections using the buon fresco method.
Michelangelo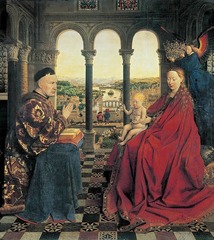 The Renaissance artist and writer Giorgio Vasari credited this Flemish painter with the invention of oil paint.
Jan van Eyck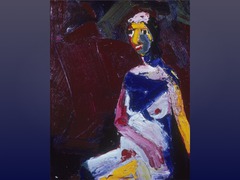 Californian artist Joan Brown used this painting technique, created by applying thick layers of paint to a surface.
impasto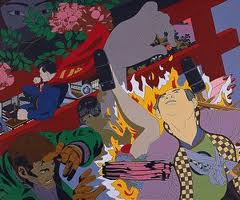 This contemporary painting medium uses a polymer resin as a binder.
acrylic
This painting medium is transparent, applied to a paper surface, and has a gum arabic binder (the French version uses honey.)
watercolor
This painting medium is opaque, applied to a paper surface, and uses a gum arabic binder.
gouache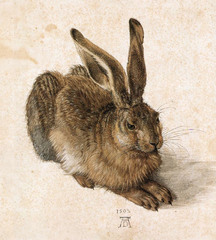 This German artist's naturalistic depiction A Young Hare was created using a combination of watercolor and gouache highlighting.
Albrecht Durer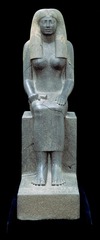 Another name for freestanding sculpture is
________.
in the round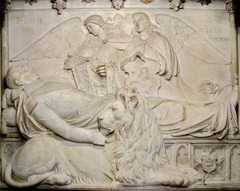 Unlike freestanding sculpture, this type of sculpture is created to be viewed from one side only.
relief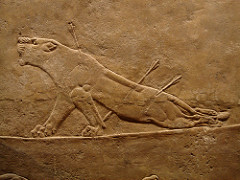 The sculptural process in which the artist carves only in shallow depth is called ________.
bas-relief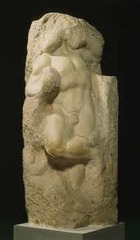 Michelangelo believed ________ to be the finest and most challenging of all the visual arts.
sculpture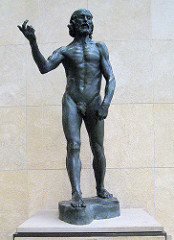 This sculpting process involves adding a liquid or
pliable material to a mold.
casting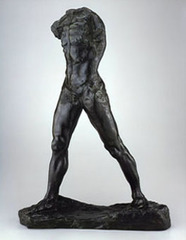 Ancient Greek sculptors sometimes created cast sculptures from ________, an alloy of copper and
tin.
bronze

The name of this bronze-casting process relies on a modeled original form made from a pliable material. This method is known as ________.
lost-wax casting
Over time, exposure to the elements can add this surface coloration to metals. It can also be created with the use of chemical preparations.
patina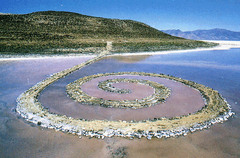 This American artist created a large earthwork titled
Spiral Jetty in the Great Salt Lake in Utah in 1969-
70.
Robert Smithson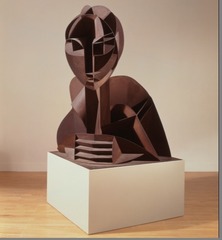 This group of Soviet artists created an entire art
movement out of the process of assembling
artworks.
Constructivists
The Physical Impossibility of Death in the Mind of Someone Living, by Damien Hirst, is an example of the broad range of materials that can be used in a work of art. It presents a ________ suspended in a
tank of formaldehyde.
shark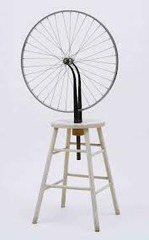 Objects found or already existing outside of the context of art, which are used as component parts in a work or to create an entire sculpture, are called
________.
readymades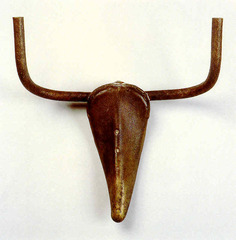 This Spanish artist combined a bicycle seat and handlebars into a form that was reminiscent of a
bull's head.
Pablo Picasso
This process involves taking over a pre-existing image or object and altering its appearance in a way that changes its original meaning or purpose.
appropriation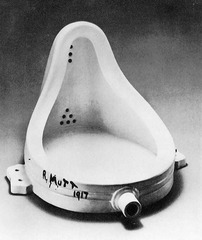 This artist took a urinal, turned it on its side, made some other slight alterations, and presented it as
an art object titled Fountain.
Marcel Duchamp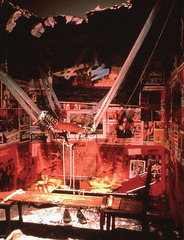 This sculptural process is the act of creating an environment that a viewer will experience within a
space.
installation
This kind of stress pushes on the structure of a building and must be countered by a pulling stress.
compression
This kind of stress pulls on the structure of a building and must be countered by a pushing
stress.
tension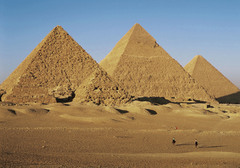 The Great Pyramid of Khufu is an example of sophisticated engineering and ________
construction.
load-bearing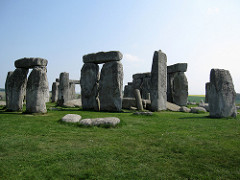 This architectural construction method consists of
two uprights and a crossbeam.
post-and-lintel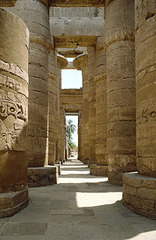 A room that uses numerous columns to support a flat ceiling is known as a ________ hall.
hypostyle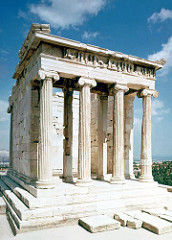 The Greek architect Kallikrates designed the Temple of Athena Nike using this style of column, named after a region in coastal Greece.
Ionic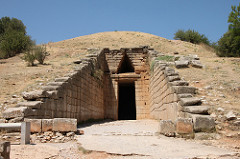 This type of arched span was first used in ancient
Babylon and Mycenae.
corbeled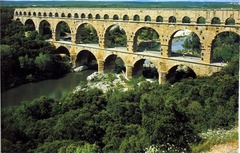 The ancient Romans perfected this type of arch and often used it in their architecture.
rounded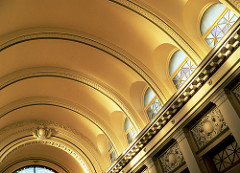 This is a ceiling based on the structural principles of
the arch.
vault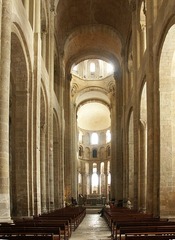 This is the large central space of a Romanesque or
Gothic cathedral.
nave
The visionary church leader Abbot Suger sought to intensify the spiritual experience of worshipers by revolutionizing church architecture. He was instrumental in establishing the architectural style
known as ________.
Gothic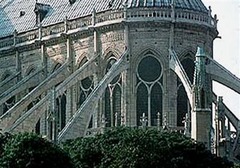 This feature of Gothic architecture allowed the weight of the ceiling to be transferred away from the walls so that larger windows could be built.
flying buttresses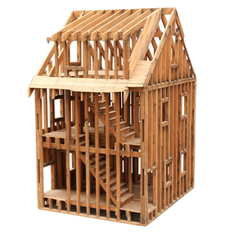 This nineteenth-century North American construction method uses lightweight wooden frames, instead of heavy timbers, to support the
building.
balloon framing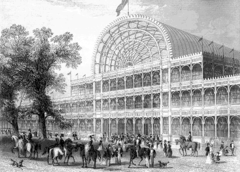 This cast-iron building was designed by Sir Joseph Paxton for the Great Exhibition of 1851, and was
more than a third of a mile long.
Crystal Palace
This architect, who pioneered the use of steel in
architecture, is sometimes called the "father of
Modernism."
Louis Sullivan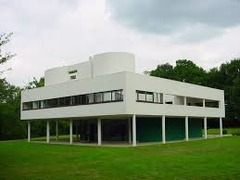 The architect Le Corbusier's International Style
favors a strongly ________ organization of forms.
geometric
Frank Lloyd Wright's Fallingwater cultivates an
organic relationship between the building and its
location by:
using materials chiefly from the surrounding countryside, coloring the concrete to match the rocks, mimicking the layers of the rocks in his design, and letting the underlying rock jut into the living space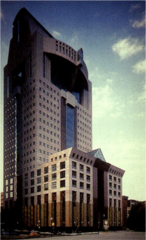 This style of architecture, which began in the 1980s, combines the hard rectangles of Modernism with unusual materials and stylistic features from
the past.
Postmodernism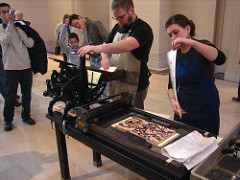 The earliest existing printed artworks on paper
were created in this culture.
China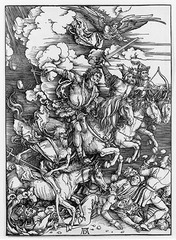 This type of printmaking is done by carving away part of a block in order to leave a raised surface
that can be inked and printed.
relief
This style of printmaking means "pictures of the floating world" and was practiced by the Japanese
artist Kitagawa Utamaro.
Ukiyo-e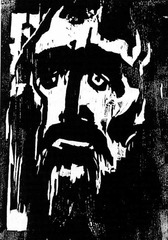 This twentieth-century German artist used the natural grain and splintering of the woodblock to make his work Prophet more expressive.
Emil Nolde
This term for plate printmaking means "cut into" in
Italian.
intaglio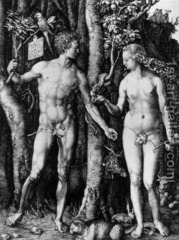 This intaglio printing process involves carefully and
cleanly scoring a metal plate.
engraving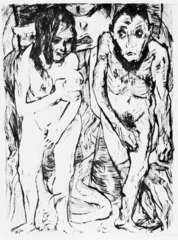 This intaglio process is achieved by pulling a burin across the surface of a metal plate, leaving a burr
where the ink will collect.
drypoint
This intaglio process employs acid to mar the
surface of a metal plate.
etching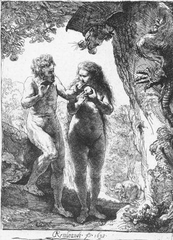 This seventeenth-century Dutch artist was a master of etching and used it to depict Adam and Eve as
well as other religious subjects.
Rembrandt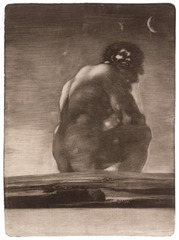 This intaglio process makes an image that resembles the effect created by water-based media, and uses melted rosin to create an acid-
resistant coating.
aquatint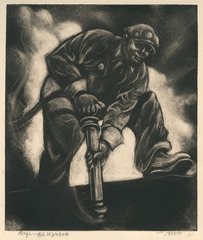 This intaglio process is achieved by roughening the entire metal plate surface with a rocking tool, then smoothing the areas where the ink is to be wiped
away.
mezzotint
This type of printmaking does not require the artist to cut into a surface; the ink is suspended by other
means to complete the print.
planographic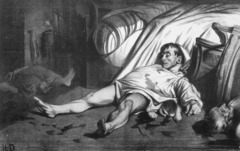 In one of his lithographic images, this French artist depicted the aftermath of a violent incidence of police brutality where a family was killed in a case
of mistaken identity.
Honore Daumier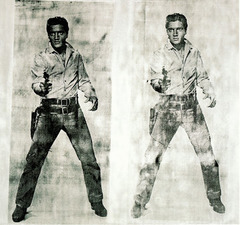 This printmaking process is used for t-shirts, solar
panels, and circuit boards.
silkscreen
A group of prints that are identical and produced in a limited number is called ________.
an edition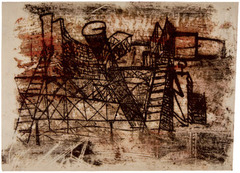 This process can be used to create a unique printed image, and involves a clean plate of metal or glass on which the artist carefully inks the image
then prints.
monotype
What does the word "photograph" mean?
writing with light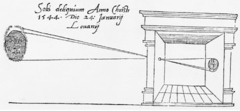 The first cameras were ________.
room-sized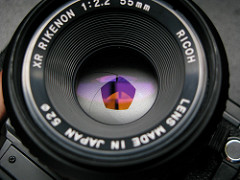 The name of the opening that lets light into any
camera is called ________.
the aperture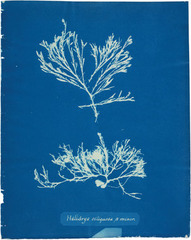 When were the first successful photographs made
using a camera?
early 1800s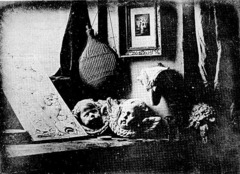 Daguerreotypes are made on ________.
polished metal plates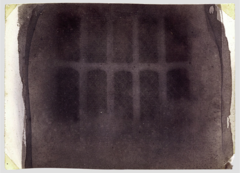 A major benefit of the calotype process is that
________.
calotypes are negatives that can be readily reproduced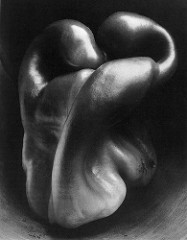 The American photographer Edward Weston
focused closely on the subject of his Pepper No. 30, making the viewer concentrate on the ________ and ________ of the vegetable.
form . . . texture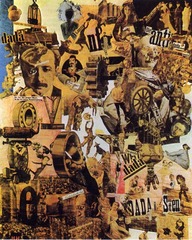 Hannah Höch was part of a movement known as
________.
Dada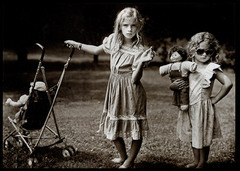 Sally Mann's 1989 photograph The New Mothers
was made ________.
in black and white
Shining a light through a film negative reverses the tones so that multiple positive prints can be made. True or false?
True
Artworks made using alternative media and
processes ________.
break down categories of traditional artworks, break down the traditional boundaries between art and life, and focus our attention on objects, actions, and events we might otherwise overlook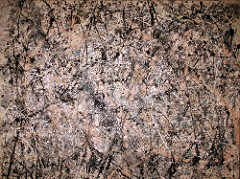 Jackson Pollock is known for:
splashing, pouring, and dripping paint onto a canvas as he walked around it on the floor
Artworks made using alternative media are best accessed by ________ but often exist only in the
form of ________.
direct experience . . . visual documentation or personal accounts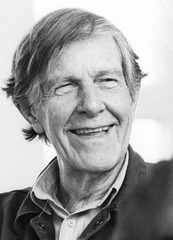 Composer John Cage's Theater Piece No. 1 is
influential because of:
the performance itself and discussions of it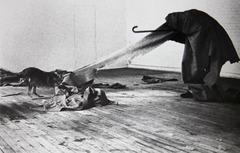 In Joseph Beuys's Coyote, I Like America and
America Likes Me, the artist:
wrapped himself in felt and lived for five days alone in an art gallery with a coyote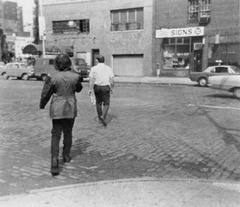 Vito Acconci is the artist who created ________.
Following Piece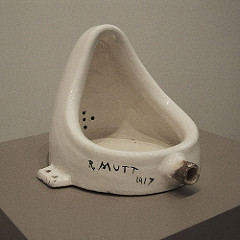 The work of ________ was directly influential on
the conceptual art movement.
Marcel Duchamp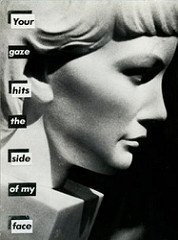 Barbara Kruger's Untitled (Your Gaze Hits the Side
of My Face):
employs her background as a graphic designer in its use of text and image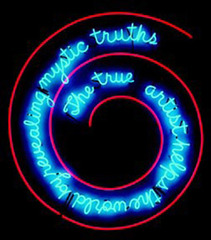 What unconventional material does Bruce Nauman use in The True Artist Helps the World by Revealing Mystic Truths (Window or Wall Sign)?
neon tubing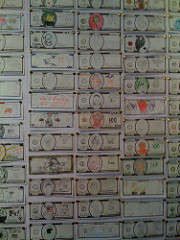 Mel Chin's Fundred Dollar Bill Project is designed
to:
raise awareness about and campaign for the treatment of lead-toxic soil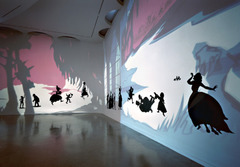 Kara Walker's installation Insurrection! (Our Tools were Rudimentary, Yet We Pressed On) combines:
silhouette drawings and projections
What is the alternative medium or process of this definition:
artworks that track the movements and gestures the artist makes during their production
action paintings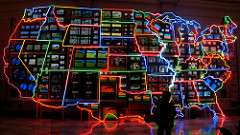 What is the alternative medium or process of this definition:
artworks that transform the surrounding space in order to become environmental artworks
installation
What is the alternative medium or process of this definition:
an art action or event that incorporates elements of music, dance, poetry, video, and multimedia technology
performance art
What is the alternative medium or process of this definition:
a general tendency, as well as an art movement originating in the 1960s, that emphasizes the ideas behind an artwork over any material production to represent those ideas
conceptual art
What is the alternative medium or process of this definition:
impromptu art actions, initiated and planned by an artist, the outcome of which is not known in advance
happenings