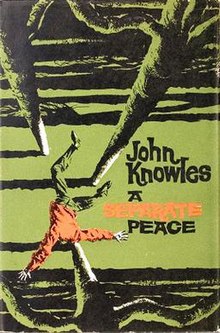 A Separate Peace
We found
6

free papers on A Separate Peace
John Knowles wrote a captivating novel called A Separate Peace (1960) which depicts the coming of age of Gene and Finny during World War II at an all boys school in New England. The novel explores the theme of jealousy and its impact on friendship, maturity, and mortality. The plot revolves around Gene's jealousy, which…
| | |
| --- | --- |
| author | John Knowles |
| genre | Realism |
| originally published | 1959 |
| description | A Separate Peace is a coming-of-age novel by John Knowles, published in 1959. Based on his earlier short story "Phineas", published in the May 1956 issue of Cosmopolitan, it was Knowles's first published novel and became his best-known work. |
| setting | A Separate Peace is set at the Devon School in New Hampshire, a place considered Edenic because of its peaceful and isolated location; a place separated from the realities the rest of the country was experiencing during World War II., |
| protagonist | Gene Forrester |
| climax | The climax of A Separate Peace is when Gene makes the split decision to jounce the branch of the tree, causing Finny to fall. This is the turning point because Gene's inner conflict (evident in the rising action events of the novel) leads to this momentous event. ... A Separate Peace's dramatic climax is Finny's death. |
| information | Page count: 236 |
Frequently Asked Questions about A Separate Peace
Don't hesitate to contact us. We are ready to help you 24/7
While Knowles' tale of the journey from innocence to experience has been described as depressing, his capture of youthful emotion, surprising maturity and reactions to life's great tragedies make it a must-read during those awkward teenage years.
What does the term separate peace mean?
A separate peace is a nation's agreement to cease military hostilities with another even though the former country had previously entered into a military alliance with other states that remain at war with the latter country.
What is the main conflict in A Separate Peace?
In A Separate Peace by John Knowles, the World War II setting is an obvious external conflict occurring in the background, but the main conflict is the internal battle that the protagonist, Gene, is fighting with himself.
What is the main theme of A Separate Peace?
More than anything, A Separate Peace is a novel about friendship—its joys, its benefits, its limits. Gene and Finny's relationship is unique, shot through with both childish simplicity and a complex tenderness they don't always know how to navigate.