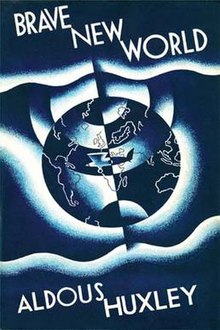 Brave New World
We found
30

free papers on Brave New World
Word Count: 750By: Aldous Huxley Brave New World opens in a technicallyadvanced future world. In the beginning of this book, we see the Director ofWorld Hatcheries lead the new hatchery students on a tour of aConditioning Center in London where babies are produced in bottles andpre-sorted to determine which class level they will be born…
Show More
author
Aldous Huxley
genre
Science fiction, dystopian fiction
originally published
1932
description
Brave New World is a dystopian social science fiction novel by English author Aldous Huxley, written in 1931 and published in 1932.
setting
Brave New World is set in the future of our own world, in the year 2450 A.D. The planet is united politically as the "World State." The Controllers who govern the World State have maximized human happiness by using advanced technology to shape and control society.,
characters
Bernard Marx, Mustapha Mond, Helmholtz Watson, Lenina Crowne
information

Pages: 311 (1932 ed.); 63,766 words

Caste system: The caste system in Brave New World consists of five castes, the Alpha caste, which is the "best" caste to belong to, and then Betas, Gammas, Deltas and Epsilons, the lowest caste (Huxley 26-29). … This process is used on the lower castes, since their work tasks mainly include monotonous factory-like jobs.,
Frequently Asked Questions about Brave New World
Don't hesitate to contact us. We are ready to help you 24/7
What does Brave New World teach us?
Brave New World warns of the dangers of giving the state control over new and powerful technologies. ... Whereas the State talks about progress and science, what it really means is the bettering of technology, not increased scientific exploration and experimentation.
What is Huxley's message in Brave New World essay?
The novel is indeed an example of dystopian fiction, a story in which a society's attempt to create a perfect world goes wrong. This allows Huxley to express the message that people need to be free to make their own choices and to follow their own passions.
What is the thesis of a Brave New World?
Brave New World focuses on the theme of happiness at the price of truth. This theme is prevalent throughout the novel and presents itself through the widespread use of soma and the exploration of the Savage Reservation.