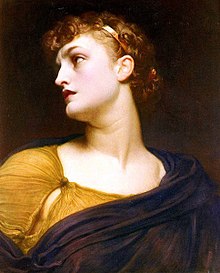 Antigone
We found
37

free papers on Antigone
When analyzing the history of Greek Tragedies it is impossible not to address one of the main focuses of tragedies; the fatal flaw of some of the characters. Fatal flaws are the negative traits of a character that eventually leads to their downfall. One key fatal flaw that is repeated throughout many Greek tragedies is…
Show More
genre
Tragedy
description
Antigone is a tragedy by Sophocles written in or before 441 BC. Of the three Theban plays Antigone is the third in order of the events depicted in the plays, but it is the first that was written. The play expands on the Theban legend that predates it, and it picks up where Aeschylus' Seven Against Thebes ends.
characters
Creon, Antigone, Ismene, Haemon, Eurydice of Thebes, Tiresias, Sentry, Polynices
information

Playwright: Sophocles

Brother: Eteocles

Chorus: Theban Elders

Date premiered: c. 441 BCE

Tragic flaws: Her tragic flaw is that she has hubris, which is excessive pride, and that leads her to be unbending. Ironically, Antigone means unbending in Greek. Because she is unbending, she will not denounce her decision to bury Polynices. This angers CreonCreonIn Oedipus Rex, Creon is a brother of queen Jocasta, the wife of King Laius as well as Oedipus. Laius, a previous king of Thebes, had given the rule to Creon while he went to consult the oracle at Delphi.

Location: setting (place) Antigone and Oedipus the King are set in Thebes, Oedipus at Colonus in Colonus (near Athens).,

Age: Thus Antigone should be thought of as a 15 year old at most, and possibly as much younger ( 12 or 13). Her behaviour – wild and defiant is not unheard of in girls of that age. In fact it was recognised as a problem in Athenian culture, to be managed by a strange custom.,
Frequently Asked Questions about Antigone
Don't hesitate to contact us. We are ready to help you 24/7
What is the main theme of Antigone?
A central theme of Antigone is the tension between individual action and fate. While free choices, such as Antigone's decision to defy Creon's edict, are significant, fate is responsible for many of the most critical and devastating events of the trilogy.
Why is Antigone right essay?
Even though it was forbidden, Antigone decided to defy the state's law and give her brother a burial. Antigone was right to defy King Creon because she had the right to bury her brother and her brother deserved a respectful burial so they could honor their family. Every person deserves a respectful burial.
What is the moral of Antigone?
In Antigone, the moral of the story is that of fate. This moral is incorporated through the actions of both Creon and Antigone. The moral also corresponds with a recurring theme of the abuse of power, something that Creon is more than guilty of.
What is the thesis of Antigone?
The thesis statement (the first sentence of the conclusion) is as follows: Creon most closely fits with Aristotle's definition of a tragic hero because of his mistakes, his pride, his great downfall, and his suffering. This thesis statement is certainly defensible and completely addresses the prompt.