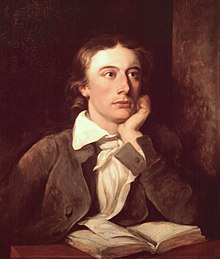 John Keats
We found
11

free papers on John Keats
John Keats
Literature
Poetry
Ode to a Nightingale In Ode to a Nightingale, John Keats, the author and narrator, used descriptterminology to express the deep-rooted pain he was suffering during his battlewith tuberculosis. This poem has eight paragraphs or verses of ten lines eachand doesn't follow any specific rhyme scheme. In the first paragraph, Keats gaveaway the mood of…
Show More
born
October 31, 1795, Moorgate, London, United Kingdom
died
February 23, 1821, Rome, Italy
description
John Keats was an English poet prominent in the second generation of Romantic poets, with Lord Byron and Percy Bysshe Shelley, although his poems had been published for only four years when he died of tuberculosis at the age of 25.
books
Ode to a Nightingale 1819, To Autumn 1820,
movies
Arterial
quotations

A thing of beauty is a joy forever: its loveliness increases; it will never pass into nothingness. I love you the more in that I believe you had liked me for my own sake and for nothing else. Heard melodies are sweet, but those unheard are sweeter. Nothing ever becomes real till it is experienced.

information

Siblings: Thomas Keats, Frances Mary Keats, George Keats

Parents: Frances Jennings Keats, Thomas Keats
Frequently Asked Questions about John Keats
Don't hesitate to contact us. We are ready to help you 24/7
What did John Keats write about?
John Keats devoted his short life to the perfection of poetry marked by vivid imagery, great sensuous appeal and an attempt to express a philosophy through classical legend. In 1818 he went on a walking tour in the Lake District.
What was John Keats philosophy?
Keats concluded from the natural world that hardship was an intrinsic part of life: "The whole appears to resolve into this—that Man is a poor forked creature subject to the same mischances as the beasts of the forest, destined to hardships and disquietude of some kind or other" (325).
What was John Keats writing style?
Keats's diction is highly connotative. His writing style is characterized by sensual imagery and contains many poetic devicespoetic devicesPoetic devices are a form of literary device used in poetry. Poems are created out of poetic devices composite of: structural, grammatical, rhythmic, metrical, verbal, and visual elements. They are essential tools that a poet uses to create rhythm, enhance a poem's meaning, or intensify a mood or feeling. Poetic devices such as alliteration, personification, assonance, metaphors, and consonance. All of these devices work together to create rhythm and music in his poems.