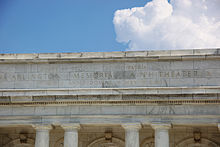 Dulce Et Decorum Est
We found
7

free papers on Dulce Et Decorum Est
The poem begins with a Latin title, Dulce Et Decorum Est, meaning it is sweet and honourable to die for one's country. The meaning of title is already very ironic as the whole poem is actually looking at war from a very negative point of view. It is blatantly to the point as the poem…
author
Wilfred Owen
theme
The ideals of war spread by patriotism and propaganda, Owen argues, serve only to perpetuate the suffering of those who fight.,
originally published
1920
description
Dulce et Decorum est is a poem written by Wilfred Owen during World War I, and published posthumously in 1920. The Latin title is taken from Ode 3.2 of the Roman poet Horace and means "it is sweet and fitting". It is followed by pro patria mori, which means "to die for one's country".
information

Allusion: The allusion in "Dulce et Decorum Est" is in the title and in the last two lines. It comes from a poem in Latin called "Ode: III. 2" by a Roman poet named Quintus Horatius Flaccus—or Horace.,

Purpose: The purpose of the poem, Dulce et Decorum Est, is to try to explain to the public that war is not at all glorious. Owen finishes this poem by saying to not tell children who want glory that to die for your country is not as sweet as it may seem.,

Rhyme scheme: The rhyme scheme of "Dulce et Decorum Est" is, of course, ababcdcd, etc. (the traditional pattern of an English sonnet prior to the turn), but Owen does not complete the turn by ending on a rhyming couplet.