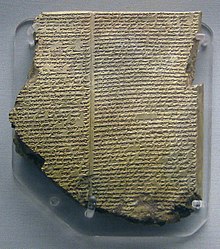 Epic of Gilgamesh
We found
15

free papers on Epic of Gilgamesh
Sangamithra Gangarapu, a software engineer, once said: "add life to your days, not days to your life;" This short but meaningful message caught my attention when I was browsing through facebook sometime last week. I'm sure the question that comes to mind when any of us when we see this quote is: have I live…
Show More
Frequently Asked Questions about Epic of Gilgamesh
Don't hesitate to contact us. We are ready to help you 24/7
What is the main message of the Epic of Gilgamesh?
The main themes in The Epic of Gilgamesh include the meaning of life, identity and relationship, and mortality and immortality. The meaning of life: Enkidu's death forces Gilgamesh to face his own mortality. He travels the earth, hoping to unlock the secret of immortality, only to return home empty-handed.
What makes the Epic of Gilgamesh a masterpiece?
It is about their becoming human together, and has a high emphasis on immortality. A large portion of the poem illustrates Gilgamesh's search for immortality after Enkidu's death. The epic is widely read in translation, and the hero, Gilgamesh, has become an icon of popular culture.
What was the importance of the Epic of Gilgamesh?
Through his struggle to find meaning in life, Gilgamesh defied death and, in doing so, becomes the first epic hero in world literature. The grief of Gilgamesh, and the questions his friend's death evoke, resonate with every human being who has wrestled with the meaning of life in the face of death.
Why is the story of Gilgamesh easily recognized as an epic?
The Epic of Gilgamesh can be justly classified as an epic because it is a narrative poem. Because it is a long poem that tells a story, it fits the main definition of an epic. ... Along with telling a story, it is also written in a poetic style that includes a lot of repetition. This makes the story easier to remember.