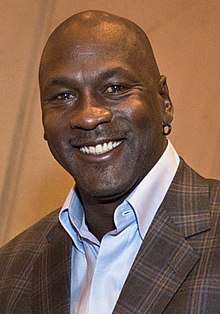 Michael Jordan
We found
3

free papers on Michael Jordan
Michael Jordan
Retirement
Sport
Imagine your the greatest of greats at basketball and then in the middle of your prime you retire, Well, that is what happened to Michael Jordan but the thing is what if his retirement was a secret suspension. Michael Jordan had one of the best careers ever and in the middle of his Career, he…
Brands
Michael Jordan
Sport
Air Jordan is a brand of shoes that are modeled after one of the best basketball player of all time Michael Jordan. The shoes are produced and owned by Nike and Michael Jordan. Air Jordan shoes were first released for the public in 1985 after Jordan himself wore them as a rookie in 1984, with…
Basketball
Michael Jordan
Sport
Michael Jordan once said "I've failed over and over and over again and that's why succeeded. " If you don't even try in life you will never be successful. When you want to be successful as bad as you want to breathe then you be successful. Success is about developing personal wisdom and competence or…
Frequently Asked Questions about Michael Jordan
Don't hesitate to contact us. We are ready to help you 24/7
How did Michael Jordan impact the world?
But for all his huge dunks, fresh kicks and clutch shots, Jordan's biggest impact came off the court as he empowered athletes, especially African-Americans, to obtain full economic participation in the billions generated by their labor.
What is a fact about Michael Jordan?
His ability to jump and do crazy dunks and incredibly athletic things on the court garnered the nickname, Air Jordan. He was the 3rd overall pick by the Chicago Bulls in 1984. He was awarded the NBA's Most Valuable Player award five times. ... He is a 14-time NBA All-Star.
What makes Michael Jordan so important?
Michael Jordan is widely considered to be the greatest basketball player of all time. In fact, he's arguably one of the greatest athletes of all time. He was a four-time gold medalist with USA Basketball, including winning two Olympic golds, and was twice named the USA Basketball Male Athlete of the Year.