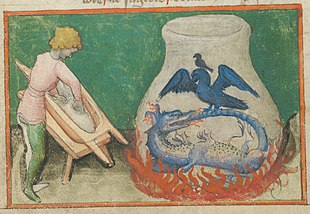 Alchemist
We found
10

free papers on Alchemist
In life, it is hard to come across a good book. Millions of books are published each year, all over the world. J.D. Salinger, the author of the Catcher In The Rye says, "What really knocks me out is a book that, when you're all done reading it, you wish the author that wrote it…
author
Paulo Coelho
genre
Quest, adventure, fantasy
theme
The most prominent theme in The Alchemist is the idea that each person has a "Personal Legend"—a type of ideal fate or destiny—and that each person can chose whether or not to pursue that legend.,
originally published
1988
description
The Alchemist is a novel by Brazilian author Paulo Coelho that was first published in 1988. Originally written in Portuguese, it became a widely translated international bestseller.
setting
setting (place) The main plot of the alchemist takes place in the Spanish pastures, the Spanish town of Tarifa, the city of Tangier in North Africa, and the Sahara desert. The novel's protagonist is Santiago, an Andalusian shepherd.,
characters
The Continental Op, The Coptic Monk, The Shopkeeper, Melchizedek, Fatima
information

Pages: 163 pp (first English edition, hardcover), 208 pages (25th Anniversary Edition)

Language: Portuguese
Frequently Asked Questions about Alchemist
Don't hesitate to contact us. We are ready to help you 24/7
How would you describe The Alchemist?
Name of Character: Alchemist Description: The Alchemist is a mysterious character and an extremely powerful practitioner of alchemy who resides at the Al-Fayoum oasis. He appears to possess magical powers and he is able to convert all metals into gold and cure all ills.
What does The Alchemist symbolize?
Alchemy symbolizes both self-development and the value of life. Alchemy symbolizes self-development when the Englishman explains the study of alchemy to Santiago. Alchemists spend much of their lives working toward the Master Work and studying metals. It's a slow, long journey.
What is the main message of The Alchemist?
The constant theme in The Alchemist is to pursue your dreams by following what your heart desires. During the young boy's journey, he learns to listen to the heart and to follow the language of omens. With each passing obstacle and hurdle that the young boy encounters, there is a lesson to learn.
What is the thesis of The Alchemist?
Thesis statement: In Paulo Coehlo's novel, The Alchemist, Santiago must learn the lessons of perseverance, belief in oneself, and sacrifice in order to achieve his personal legend.