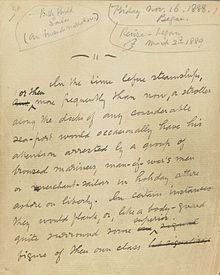 Billy Budd
We found
4

free papers on Billy Budd
Herman Melville created many characters in his writing that had a mysterious nature to them. Melville himself had a bit of mystery in his own personal character and this quality is shown through many characters such as Claggart and Bartleby. Besides having a mysterious side to him, this author was stubborn. Even though his work…
Frequently Asked Questions about Billy Budd
Don't hesitate to contact us. We are ready to help you 24/7
How does Billy Budd represent innocence?
In the story the power of innocence is incessantly attacked by the power of evil until the innocence staggers. The character Billy Budd is represented here as a person whose innocence cannot be converted into disgust even in living with ill mannered people.
What is the major problem in Billy Budd?
major conflict On one level, the conflict of the book is between the natural innocence and goodness of Billy and the subtlety and deceptiveness of evil, represented by Claggart.
What is the message of Billy Budd?
One suggested theme of Billy Budd is the corruption of innocence by society. Melville seems to prefer the primitive state over civilized society. If this posthumous work is indeed the author's last will and testament, the theme may indicate his personal resignation and acceptance of the imperfection of life.