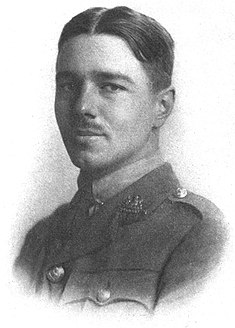 Wilfred Owen
We found
18

free papers on Wilfred Owen
The poem "Strange Meeting" mainly focuses on the theme of futility of war and universal suffering. The theme of uncertainty and ambiguity is also present in the poem. Wilfred Owen participated in the war and this poem by him focuses on the horrors of war and the destruction that war brings. Just as in his…
Show More
born
March 18, 1893, Oswestry, United Kingdom
died
November 4, 1918, Sambre-Oise Canal, France
genre
War poetry
description
Wilfred Edward Salter Owen MC was an English poet and soldier. He was one of the leading poets of the First World War.
books
Dulce et Decorum est 1920, Anthem for Doomed Youth 1920,
quotations

"Dulce Et Decorum Est. "Red lips are not so red as the stained stones kissed by the English dead." "And you have fixed my life — however short. "The old Lie:Dulce et decorum est. "All a poet can do today is warn." "These men are worth your tears. "This book is not about heroes.,I am not concerned with Poetry. The old Lie:Dulce et decorum est Pro patria mori. All the poet can do today is warn. Ambition may be defined as the willingness to receive any number of hits on the nose. If I have to be a soldier I must be a good one, anything else is unthinkable.

information

Siblings: Harold Owen, Mary Millard Owen, Colin Owen

Parents: Harriet Susan Shaw, Thomas Owen
Frequently Asked Questions about Wilfred Owen
Don't hesitate to contact us. We are ready to help you 24/7
What do you think Owen is saying about the relationship between poetry and war?
Owen, much like Rosenberg, sees war as a futile endeavor that causes far too much suffering. His point is emphasized in the last lines of his poem: I am the enemy you killed, my friend. I knew you in this dark; for you so frowned Yesterday through me as you jabbed and killed.
What does the poetry is in the pity mean?
The poetry is in the pity'. The truth of the poem, that is, lies in the truth and power of the emotion it expresses and evokes in the responder. He feels vividly and honestly and re-creates his experience for the reader with poetic power – without this there is no truth!
What is the message of exposure by Wilfred Owen?
Wilfred Owen's poem focuses on the misery felt by World War One soldiers waiting overnight in the trenches. Although nothing is happening and there is no fighting, there is still danger because they are exposed to the extreme cold and their wait through the night is terrifying.
What is Wilfred Owen's most famous poem?
Only five of Owen's poems were published before his death, one in fragmentary form. His best known poems include "Anthem for Doomed Youth", "Futility", "Dulce Et Decorum Est", "The Parable of the Old Men and the Young" and "Strange Meeting".