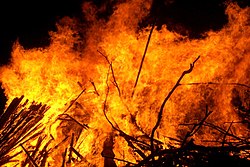 Fire
We found
72

free papers on Fire
The Truth about Coal as an Energy Resource Coal is one of the world's most impure sources of fuel. It has many different impurities ranging from metals like uranium and thorium to iron and aluminum, not to forget sulfur. When coal is combusted, other harmful substances result, like the oxides of carbon, sulfur and nitrogen,…
Show More
Frequently Asked Questions about Fire
Don't hesitate to contact us. We are ready to help you 24/7
What do you know about fire?
Fire is the visible effect of the process of combustion – a special type of chemical reaction. It occurs between oxygen in the air and some sort of fuel. ... The fuel must be heated to its ignition temperature for combustion to occur. The reaction will keep going as long as there is enough heat, fuel and oxygen.
Why fire is important in our life?
Fire is one of the most important forces in human history. ... It gave humans the first form of portable light and heat. It also gave us the ability to cook food, forge metal tools, form pottery, harden bricks and drive power plants. Fire removes low-growing underbrush, cleans the forest floor of debris, opens it up to sunlight, and nourishes the soil. Reducing this competition for nutrients allows established trees to grow stronger and healthier. History teaches us that hundreds of years ago forests had fewer, yet larger, healthier trees.