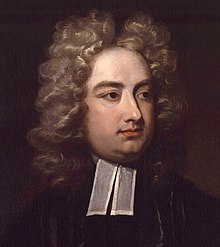 Jonathan Swift
We found
12

free papers on Jonathan Swift
In the article "A Modest Proposal" (1729), Jonathan Swift effectively vents his aggravation in regard to the treatment of the poor in Ireland. Swift is frustrated with the Irish as well in their inability to get themselves out of the state in which they find themselves. Irony is the weapon used in this satirical essay…
Show More
Frequently Asked Questions about Jonathan Swift
Don't hesitate to contact us. We are ready to help you 24/7
Did Jonathan Swift eat babies?
Note: Jonathan Swift (1667-1745), author and satirist, famous for Gulliver's Travels (1726) and A Modest Proposal (1729). This proposal, where he suggests that the Irish eat their own children, is one of his most drastic pieces. He devoted much of his writing to the struggle for Ireland against the English hegemony.
What is Jonathan Swift's thesis?
The implied thesis of Swift's "A Modest Proposal" is that 18th century Ireland would be in a better situation if the Irish society and monarchy actually treated problems such as overpopulation and poverty, While the overt thesis is that Irish people should consider eating their children and selling them to rich ...
What is Swift actually satirizing in his essay?
Swift targets the landlords that live in Britain that are responsible for the poverty in Ireland. They seem to not care for the Irish because of the difference in religion (protestant vs roman catholic) He is satirizing his own proposal for addressing a serious topic in a funny/unserious tone.
What is the real message of A Modest Proposal?
The message of A Modest Proposal is that poverty and hunger should be taken more seriously. We need to act on this issue quickly before it gets worse for everyone. The rich people in Britain should be more accommodating towards Ireland and help them out."