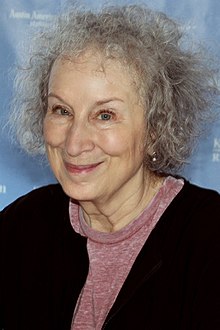 Margaret Atwood
We found
14

free papers on Margaret Atwood
Historically, throughout literature, there has been a genre in the way that authors portray the roles of women, a genre that has almost no association with women playing the role of the hero. Through further analysis of some stereotypical female roles from Wayson Choy's The Jade Peony, and Margaret Atwood's The Edible Woman it will…
Show More
Frequently Asked Questions about Margaret Atwood
Don't hesitate to contact us. We are ready to help you 24/7
What did Margaret Atwood believe?
Margaret Atwood is a Canadian writer best known for her prose fiction and for her feminist perspective. Role reversal and new beginnings are recurrent themes in her novels, all of them centred on women seeking their relationship to the world and the individuals around them.
What is Margaret Atwood's message in The Handmaid's Tale?
The message conveyed by this is that when there is such a totalitarian hold over the state, it's hard to beat without succumbing to them one way or another.
What is Margaret Atwood's most famous poem?
One of her most famous poems is 'In The Secular Night': As the author of more than 35 volumes of poetry, children's literature, fiction and non-fiction works her books have been published in more than 40 languages.