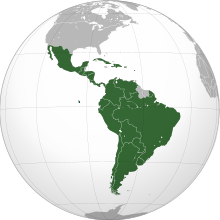 Latin America
We found
6

free papers on Latin America
Latin America
Nationalism
Nationalism is a form of patriotism based upon the identification of a group of individuals with a nation. In the 1800's, nationalism was common throughout Latin America. In the early 1800s, nationalism was associated with positive ideas like freedom from foreign control. As time progressed, in the late 1800s, new wealth came to Latin America…
Frequently Asked Questions about Latin America
Don't hesitate to contact us. We are ready to help you 24/7
What are 3 interesting facts about Latin America?
Latin America is the most urbanized continent in the world with almost 80% of its citizens living in cities. Mambo, salsa, cha-cha-cha, rumba and tango dances all come from Latin America. It has the shortest coastline, compared to its size, of any continent. The official name of for Mexico is the United Mexican States.
What exactly is Latin America?
Culturally and linguistically, Latin America is defined as nations in the Americas and the Caribbean whose residents predominantly speak Spanish or Portuguese—two of the many languages descended from Latin.
What is Latin America known for?
Latin America is a region full of diversity, culture, and traditions and is known for the hospitality of its people and their joy for life. Latin American culture is the result of a combination of European, indigenous, and African influences. Spanish is the main language in most of the region.