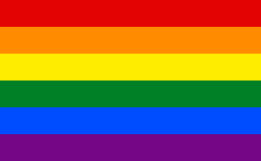 LGBT
We found
32

free papers on LGBT
Unless otherwise specified, the definition of LGB or sexual minority youth as used in this paper will specifically reference adolescents who self-identify as lesbian, gay, or bisexual, and will not include transgender youth. Transgender youth are often confronted with a very different experience from cissexual minority youth, and cannot be grouped together with LGB youth…
Show More
Frequently Asked Questions about LGBT
Don't hesitate to contact us. We are ready to help you 24/7
What does 2 Lgbtq stand for?
Sexual orientations and gender identities that aren't heterosexual or cisgender are often described by the acronym LGBTQ2S+. LGBTQ2S+ is an acronym that stands for Lesbian, Gay, Bisexual, Transgender, Queer or Questioning, and Two-Spirit.
Why is it important to respect all genders?
Gender equality is when people of all genders have equal rights, responsibilities and opportunities. ... Gender equality prevents violence against women and girls. It's essential for economic prosperity. Societies that value women and men as equal are safer and healthier.