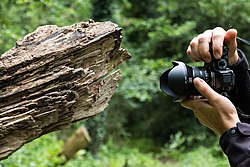 Photography
We found
39

free papers on Photography
Society invariably influences artwork produced by artists. Materials and available technology of the era also play a significant role. Cavemen used cave walls and ground pigments made from ocher. His subject matter was influenced by superstition and his environment. Sculptor and architect Filippo Brunelleschi was the first to use a geometrically based linear perspective. This…
Show More
Frequently Asked Questions about Photography
Don't hesitate to contact us. We are ready to help you 24/7
How do I write about photography?
What is importance of photography?
Essentially, the purpose of photography is to communicate and document moments in time. When you take a photograph and share it with others, you're showing a moment that was frozen through a picture. This moment can tell someone many things, from the environment to what people are doing.
What is the importance of photography in your life essay?
Photography is important because we can document something and have it forever. Photography lets us see something we may never have noticed otherwise. Photography is a way to express your ideas for others to see. There is no way to deny that life flies by.