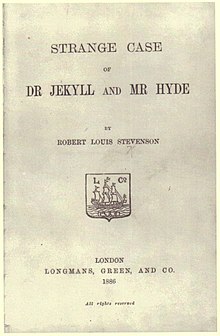 Strange Case of Dr Jekyll and Mr Hyde
We found
9

free papers on Strange Case of Dr Jekyll and Mr Hyde
Strange Case of Dr Jekyll and Mr Hyde
"And yet when I looked upon that ugly idol in the glass, I was conscious of no repugnance, rather a leap of welcome. This, too, was myself." Dr Jekyll's recognition here unsettles the easy way of reading Dr Jekyll and Mr Hyde, where Hyde is imagined merely as a terrifying monster who must be destroyed….
author
Robert Louis Stevenson
genre
Psychological thriller; Drama; Horror; Mystery; Gothic; Science fiction
originally published
January 5, 1886
description
Strange Case of Dr Jekyll and Mr Hyde is a Gothic novella by Scottish author Robert Louis Stevenson, first published in 1886. The work is also known as The Strange Case of Jekyll Hyde, Dr Jekyll and Mr Hyde, or simply Jekyll and Hyde.
setting
The novel is set in London but draws heavily on Stevenson's knowledge of his hometown Edinburgh to create a chilling setting which emphasises the themes of good and evil. Setting is most important as a symbol for the characters of Dr Jekyll and Mr Hyde. Jekyll owns a fancy town house with a tumble down lab on the back.
protagonist
Henry Jekyll
narrator
The narrator is anonymous and speaks in the third person. Dr. Lanyon and Dr. Jekyll each narrate one chapter of the novel via a confessional letter.,
information

Text: Strange Case of Dr Jekyll and Mr Hyde

Pages: 141 (first edition)

Duality: Stevenson writes about the duality of human nature – the idea that every single human being has good and evil within them. Through this change in Jekyll's character, Stevenson shows the duality in human nature – the idea that everyone is capable of good and evil deeds. …, It was on the moral side, and in my own person, that I learned to recognise the thorough and primitive duality of man; I saw that, of the two natures that contended in the field of my consciousness, even if I could rightly be said to be either, it was only because I was radically both."
Frequently Asked Questions about Strange Case of Dr Jekyll and Mr Hyde
Don't hesitate to contact us. We are ready to help you 24/7
What is the main theme of The Strange Case of Dr Jekyll and Mr Hyde?
Jekyll and Mr. Hyde is as an allegory about the good and evil that exist in all men, and about our struggle with these two sides of our personality. In the novella the battle between good and evil rages within the individual.