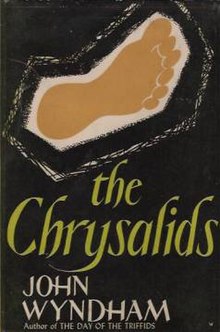 The Chrysalids
We found
5

free papers on The Chrysalids
Relationship
The Chrysalids
The importance of relationships consists of disagreements, respect, common interests and also their opinions. The Waknuk community all can relate to each other because they all follow the same religion, the "True Image" or the "Nicholas Repentances". In the Strorm family they all have different opinions, religious views. David and the telepaths all need to…
Frequently Asked Questions about The Chrysalids
Don't hesitate to contact us. We are ready to help you 24/7
How is discrimination shown in The Chrysalids?
In the Chrysalids, the people of Waknuk are prejudice against anyone who does not live up to their beliefs of a "true image." They discriminate against anyone who looks or acts differently than they do. ... People still discriminate against other races and religions.
What does the title The Chrysalids mean?
The title of the novel illustrates the repression in Waknuk society, which relates to the theme of the discrimination of deviants in the repressed Waknuk society. The Waknuk society abides by the "Definition of Man", which defines how a man or woman is supposed to look like in the Waknuk society.
What is the message of The Chrysalids?
The Chrysalids exposes the hypocrisy and ludicrousness of any society that kills its members in an attempt to be more pure and moral…
What is the story The Chrysalids about?
The Chrysalids is a novel by John Wyndham about a post-apocalyptic world where all mental and physical abnormalities are ritualistically purged. After being outed as telepathic, David and his friends must flee. David and several of his friends are telepathic.