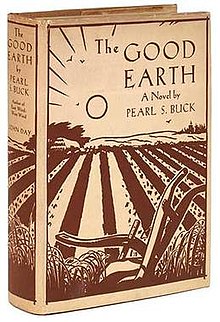 The Good Earth
We found
5

free papers on The Good Earth
Reaction to a Significant Passage from The Good Earth "And O-lan in the house was not idle. With her own hands she lashed the mats to the rafters and took earth from the fields and mixed it with water and mended the walls of the house, and she built again the oven and filled the…
Frequently Asked Questions about The Good Earth
Don't hesitate to contact us. We are ready to help you 24/7
What is the main idea of The Good Earth?
The overarching theme of The Good Earth is the nourishing power of the land. Throughout the novel, a connection to the land is associated with moral piety, good sense, respect for nature, and a strong work ethic, while alienation from the land is associated with decadence and corruption.
Why is The Good Earth called The Good Earth?
The novel is titled The Good Earth because the earth is good. Yep. Pretty simple. Everything in Wang Lung's life comes from the earth: the farmhouse, the oven, even the little earth gods.
Why was The Good Earth important?
The Good Earth broke symbolic literary ground. It became an instant bestseller in the United States, was translated into more than 30 languages and soon became an acclaimed Broadway play and motion picture.