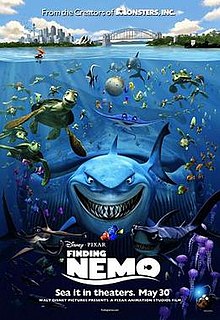 Finding Nemo
We found
7

free papers on Finding Nemo
A good animated family comedy that is sure to keep kids entertained and parents alike. To any parent that is tired of sitting through the mind numbing genre that is kid's movies, then Finding Nemo is the family movie to getting you through your kids turn to pick a movie. In the movie Finding Nemo…
Frequently Asked Questions about Finding Nemo
Don't hesitate to contact us. We are ready to help you 24/7
What does Finding Nemo teach us?
Finding Nemo taught us that parents, as authority figures, aren't always right and that it's okay for them to make mistakes. After all, they're only human - and most of the times they are just learning how to be parents along the way.
What is the conclusion of Finding Nemo?
When the film concludes, Marlin sends his son off to school without any real hesitation – he receives only a warm hug from Nemo before he tells him to "go have an adventure." This exchange works well as a metaphor to illustrate Marlin's evolution, having finally let go of his perceived failure and the memory of losing ...
What is the main theme of Finding Nemo?
However, it is somewhat surprising that Finding Nemo engenders such a high degree of satisfaction in its viewers, given the challenging nature of the main theme of the film: loss. Loss is not only depicted through Nemo and Marlin's struggle to cope with their separation from one another.